Dr Ian Birchmore
LLB (Hons), MSc in Information Technology, PhD, PGCTHE, Member of the Chartered Institute of Public Finance and Accountancy (CIPFA) with over 25 years post-qualification experience, Fellow of the Higher Education Academy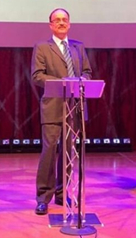 Profile
Ian is a qualified accountant (CIPFA) who has previously worked in the public and voluntary sectors in specialist internal audit, forensic and risk management roles and in senior management positions in those sectors. His teaching and research interests stem from many years' hands-on experience in the internal audit, governance and risk management fields. He is especially interested in risk ethics and the interface between ethics and professional practice.
Before coming to Aberystwyth, Ian taught at Warwick University and has a particular interest in the use of case studies in management and business education.
Ian maintains a number of professional networks and connections that have helped recent graduates to secure professional, graduate employment.
Teaching
Research
My ongoing personal research looks at issues of risk, applications of complexity and fuzzy number theory, internal control, ethics and forensics. My current areas of focus and publications are risk, learning, unlearning and forgetting.
Responsibilities
Senior Tutor for Aberystwyth Business School
Member of the University's Unacceptable Academic Practice Panel
Maintenance and development of professional accreditations for Accounting and Finance
Mentoring those new to teaching in higher education who teach within the Business School and are undertaking the TPAU programme towards gaining an Associate Fellowship of the Higher Education Academy
Office Hours (Student Contact Times)
Monday 14:00-15:00
Friday 10:00-11:00
Publications