Cwrt Mawr Price Band 2
Cwrt Mawr Price Band 2
Apply Online
Compare Residences
Overview
Cwrt Mawr is situated at the top of the Penglais Campus, close to Trefloyne and Rosser halls of residences - housing around 1000 students in total. Many of the rooms also embrace fine views of the town and the bay, which are just a ten minute walk away.
Accommodation
Cwrt Mawr houses around 600 students split between 12 different blocks; 9 of which are price band 2. Each block has 6 self-contained flats comprising between 6 and 10 single bedrooms. Residents will also have access to a shared shower room(s), toilets and a shared kitchen area as well as having a wash basin in their room.
Catering
Students in Cwrt Mawr are self-catering, sharing kitchens in self-contained flats. Cwrt Mawr is located within 5 minutes' walk of CK's supermarket, or alternatively residents can shop at the larger supermarkets in the town.
However, if you also like the sound of using our catering facilities you can load your Aber Card with money, or family/friends can top it up on your behalf, to use at any of our outlets - you will also benefit from the 10% discount!
Also available in Cwrt Mawr Price Band 2 is our Part-Catered option. In addition to having your own fully equipped kitchen, you will also have an allowance, as part of your Accommodation Fee, to spend on food in a choice of our hospitality venues. So you get the best of both!
Facilities & Services
Cwrt Mawr's main facilities include:
Self-catered or part-catered accommodation.
Wi-Fi and wired connection.
Laundry facilities.
Cleaning Service provided in all communal areas outside of your flat - entrances, landings, stairwells and corridors.
Learning Centre (The Lounge @ Rosser) - containing PC work stations, Wi-Fi, group study areas, photocopier, vending, leather sofa's.
Secure cycle storage for up to 60 bicycles.
Refuse & Recycling collection points.
Parking (limited, permit required).
Residence Assistants providing you with support and guidance.
What's in Your Room?
Furniture & Equipment:
Single bed (3 foot) & mattress.
Wardrobe.
Desk & computer chair.
Desk lamp.
Bookshelves.
Noticeboard.
Waste bin.
Wash basin (sink) with mirror.
What's in your Shared Areas?
Kitchen
1 x Fridge and 1 x Freezer, or 2 x Fridge/Freezer's - providing 1 x fridge shelf or drawer and 1 x freezer drawer per person.
Oven with grill & hob.
Microwave.
Kettle.
Toaster.
Dining table and chairs (1 chair per person).
Iron.
Ironing board.
Mop & bucket.
Dustpan & brush.
Hoover.
Broom.
Noticeboard.
Bathroom
2 x toilets.
Hand sanitiser / wash basin (sink).
2 x Showers.
Location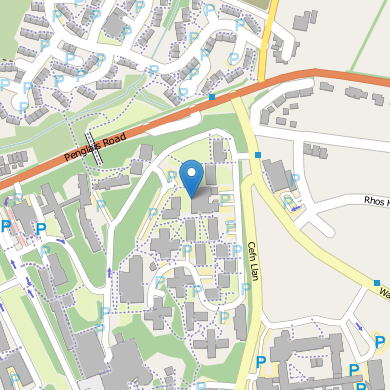 Click on the map to view the exact location of Cwrt Mawr.
Cwrt Mawr is within a five minute walk of:
CK's supermarket.
Fish & Chip shop.
Bus stop.
Most Academic Departments.
University Libraries.
Gallery
Please note the images used are examples of a selection of rooms and styles may differ between locations. (Please click on the images to see a larger version).
Tour
Tour
Take a 360 degree tour of this residence by clicking and dragging on the image below; click on a highlighted area to move to a new viewpoint. Please note the images used are examples of a selection of rooms and styles may differ between locations.
Fees
Room Type
Weekly Cost 2018/19
Length of Licence

2018/19

Weekly Cost 2019 / 2020
Length of Licence 2019 / 2020
Single Price Band 2
£85.40
39 weeks*
£85.40
39 weeks**
Single Price Band 2 (Part-Catered)
£123.90 (including food allowance)
39 weeks*
£125.65
39 weeks**

*From 10.00am on 21/09/2018 - 10.00am on 21/06/2019.
**From 10.00am on 20/09/2019 - 10.00am on 26/06/2020.