Aber+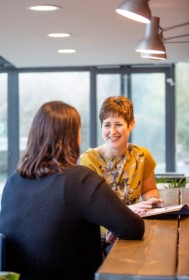 Aber+ is a scheme designed to help students who have a learning difference or disability access the full range of information and support provided by the Careers Service.
The Aber+ scheme is one way of becoming more 'work ready' by helping you access the Careers Service and improve self-awareness, identify career ideas, find work experience opportunities and enhance your employability skills.
Throughout the year, there are a number of activities (see below for a timetable of activities for 2019/20) you can get involved with which will help improve your employability. You will become more familiar with everything the Careers Service has to offer, and a clearer plan of action to support your professional future.
The Careers Service also runs the GO Wales, Achieve through Work Experience Programme which is for young students on higher education courses in Wales who are facing barriers in securing work experience.
You may also like to visit the Equality and Diversity page which includes links to videos and information on subjects such as finding positive employers and disclosure.
Aber+ sessions 2019-2020
All sessions will start at 2pm and will be in IBERS (new building) room 0.30
09/10/2019 – Introduction to Aber+
Come and learn about how the Aber+ scheme can help you become more 'work ready' by helping you access the Careers Service and improve your self-awareness, identify your career ideas, find work experience and enhance your employability.
16/10/2019 – CV workshop – how to create a winning CV
Do you know employers might only spend a few seconds looking at your CV? Come along to this informative session and get hints and tips on how to create a great CV.
23/10/2019 – Applying for part-time jobs locally
Gain tips and advice on finding and applying for part-time jobs locally.
06/11/2019 – GO Wales – support to gain work experience opportunities
The Achieve through Work Experience Programme creates tailored work experience opportunities for young students under 25 years old. You are at the centre of this Programme. Your University adviser will work and support you, taking your needs into account at all times.
13/11/2019 – How to disclose to employers
This session will explore how best to disclose your disability if you choose to and how to find disability friendly employers.
27/11/2019 – Should I do a Masters?
This informative session explores reasons for taking up Masters level study, how this fits within your own career thinking, alongside practical guidance on the application process.
04/12/2019 – Drop-in session
Come and chat about your CV, applications or anything career related!
05/02/2020 – Finding summer work experience - where will you go this summer?
Come and discover how to research and obtain work experience opportunities for the summer which will help you to enhance your skills and clarify your career goals.
12/02/2020 – How to give an effective presentation
Come along and get some useful tips on being a more effective presenter. Whether it's presenting your dissertation or part of a job interview, you will get an opportunity to build on your confidence.
04/03/2020 – Applying for a graduate job
This session will guide you through how employers recruit and how to approach the application process.