Postgraduate Certificate in Teaching in Higher Education (PGCTHE)
Learning and teaching resources
Welcome! The PGCTHE is a 60-credit Master's-level qualification consisting of two one-year modules. Applicants who can evidence prior qualification (AFHEA or PGCE) may enter the programme at module 2, thus taking only one year to complete.
The core of the PGCTHE is learning about learning. It provides face-to-face and online interaction, CPD sessions, curated resource collections, guidance from a personal mentor, teaching observations, and coursework. We will guide you through pedagogical principles and emerging practices in higher education, developing your ability to reflect on your practice, evaluate learning needs, and apply effective and innovative approaches in your teaching. Please see our curated collection of Learning and Teaching Resources.
Aligned with the UK Professional Standards Framework (UKPSF), the PGCTHE is accredited by AdvanceHE (formerly the Higher Education Academy HEA). You will become a Fellow of the HEA upon successful completion of the course. The PGCTHE programme is coordinated by Mary Jacob. All details about the programme are provided in our PGCTHE Student Handbook 2019.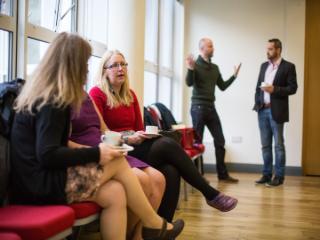 Application process
The PGCTHE is open to staff teaching on Aberystwyth University courses. Participants should have at least 40 hours contact teaching time over the duration of each module, but there is scope to consider staff with other scenarios on a case-by-case basis. Please email the course team (pgcthe@aber.ac.uk) for more information.
The next intake for both module 1 and module 2 is January 2019 (apply before 1 November).
Induction dates are: Module 1 (PDM0430) 14-16 January 2019, and Module 2 (PDM0530) 10-11 January 2019.
You can apply online, following these steps:
Read the information on the Postgraduate application page
Expand the section titled Apply Online and click on Postgraduate Application Portal
Create a new profile or log in with an existing profile
If you wish to go directly into module 2 based on prior accredited learning, you must include either your PGCE certificate or your AFHEA certificate with your application
Click on Course Selection
Enter the course code X142 and click the Search button
Click the Select button to choose this programme.
You should see the study scheme displayed as X142 - Teaching in Higher Education (2019), UCRT University Postgraduate Certificate
Select PT for Mode of Study
Click the Confirm button to apply for the programme
Module 1 Professionalising Your Teaching in Higher Education (PDM0430)
Module 1 focusses on your current practice as a teacher, incorporating reflection, pedagogical literature, and evidence-based practice. How can you find out how well your students are learning? How can you help them to learn better? You will start to develop the theoretical and reflective foundation needed for module 2.
Module 2 Action Research and Reflective Practice in Higher Education (PDM0530)
Module 2 focusses on action research and reflective practice. Through two action research projects, you will apply pedagogical principles to make changes in your teaching practice, assessing students' needs, planning a teaching intervention, and evaluating how well it helps your students learn. Reflective practice is embedded throughout for continual development of your teaching.