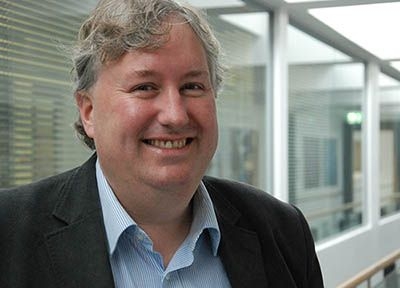 Personal Chair
Contact Details
Profile
Michael Woods joined Aberystwyth University as a Lecturer in Human Geography in 1996, having completed his first degree of the University of Wales, Lampeter, and his PhD at Bristol University, and was appointed as Professor of Human Geography in 2008. Between 2007 and 2013 he was Director of the Institute of Geography and Earth Sciences and served on a number of university committees, including the University Council. In 2014 he was appointed to a two-year post as Professor of Transformative Social Science, responsible for building capacity in social science research across the university.
Mike's research interests focus on rural geography and political geography and he has led the department's New Political Geographies Research Group between 2004 and 2008 and since 2013. From 2007 to 2014 he was Co-Director of the Wales Rural Observatory, a joint venture with Cardiff University commissioned by the Welsh Government to undertake research to support the Wales Rural Development Programme. Since 2012 he has been Aberystwyth Co-Director of the Wales Institute of Social and Economic Research, Data and Methods (WISERD) and he is also Co-Director of the ESRC WISERD/Civil Society Research Centre established in 2014 and the Aberystwyth representative on the executive of the Public Policy Institute for Wales. His research has been recognized with John Fraser Award for Research Excellence in Rural Geography by the Association of American Geographers in 2010, and he has held Visiting Professor positions at the University of Queensland and the University of Ljubljana.
Research
Michael Woods's research interests address the broad fields of rural geography and sociology, political geography, economic geography and social geography, with a particular focus on the politics and dynamics of rural change. His current and recent research falls primarily into five main areas:
The emergent 'global countryside' and the reconstitution of rural places under globalization
The 'politics of the rural', rural policy and rural social movements
Civil society, community governance and participation
The social and economic restructuring of rural communities and regions
Creative ruralities and art-science collaborations
Current Research Projects
'The Global Countryside: Rural Change and Development in Globalization (GLOBAL-RURAL)', European Research Council Advanced Grant, 2014-19 (PI, with Jesse Heley). Blog and website
'Redefining Local Civil Society in an Age of Global Interconnectivity', 2016-18 (PI, with Jon Anderson), part of the ESRC WISERD/Civil Society Research Centre. Website
'Engaging Art-Science Collaborations', AHRC Collaborative Doctoral Award, 2013-2017 (PI, with Deborah Dixon and Harriet Hawkins).
Selected Previous Research Projects
'Wales Rural Observatory', Welsh Government, 2003-2014
'Developing Europe's Rural Regions in the Era of Globalization (DERREG)', EU Framework Programme 7, 2009-11 (Co-ordinator).
'Globally Engaged? Responses to Neoliberal Globalization among Family Farmers in Australia', Australian Research Council, 2009-11 (Co-I).
'Grassroots Rural Protest and Political Activity in Britain', ESRC, 2006-08 (PI).
'Research Study of the Quality Parish and Town Council Scheme', Defra, 2006 (PI)
Current PhD Students