Angela Hawekotte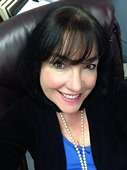 Angela graduated from Aber in 1980 with a diploma in International Law and Relations. She is now an attorney in California.
What do you remember most about your time at Aber?
I remember a wonderfully diverse and intellectually curious student population. The teaching faculty were top-notch and truly interested in advancing the education of the students. I loved the traditions of the University, its cultural identity, and, in particular, I enjoyed walking the Promenade and "kicking the bar."
What are you doing now career-wise and how has your Aberystwyth degree helped?
I am a practicing attorney in California. I am also a licensed certified public accountant. My areas of emphasis are estate planning, tax and corporate law. My Aberystwyth degree helped me especially in expanding my world-view and becoming more aware of the political and economic events that shaped the European Union and its tremendous impact in the global arena. The knowledge that I gained has made me a more interesting person, better able to communicate with a wide range of clients who come from varying backgrounds.
What advice would you have for a student doing your course now?
Enjoy the intellectual pursuit. While we do not always end up professionally doing something directly related to what we study, it is important to expand our minds and to learn about the impact of law and politics on all of us and their purpose in our ever-changing world.