Arshad Adamji Jasdanwalla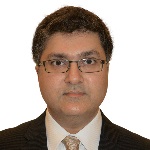 Born and brought up in Mumbai, India. Arshad came to Aberystwyth to pursue a Masters in Business Administration (MBA) degree, and graduated in 1993. He helps run a third-generation family business in Mumbai.
What do you remember most about your time at Aber?
First of all, I was awestruck by the natural beauty of the sprawling campus, Aberystwyth town and its surroundings. The other thing I immediately loved was the friendly and cosmopolitan atmosphere in the university and the town. I made some of the best friends I have during my time in Aber, and I really value the time I spent with them both in Aber, and also when I visited them in their respective countries. Being able to utilize the extensive sports facilities and activity clubs was also very important to me. The communal areas in my halls of residence were really cozy, and the best meeting place in the evenings. Of course, having so many pubs on campus as well as the town really helped with my social life!
What are you doing now career-wise and how has your Aberystwyth Degree helped?
Currently, I am the Vice Chairman of our family company, which supplies building materials to the construction industry. Recently, I had the once-in-a-lifetime opportunity of setting up and establishing a subsidiary company in Dubai, UAE, and so was based there until 2013. The MBA gave me a thorough grounding in the basic principles of doing business, and gave me the tools for implementing lots of strategies within the company in India as well as abroad.
What advice would you have for a student doing your course now?
Take full advantage of the multi-national and diverse nature of students and establish life-long friendships, which will always help you in your future life - maybe even in career. The research facilities provided within the university will also help you further develop your knowledge in current business practices. Most of all, ENJOY your time in Aber – it is your best opportunity to thrive in a friendly and supportive environment!