Massimo Marletto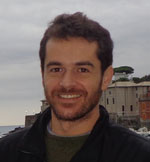 Massimo Marletto completed an MSc (Econ) in International Management at Aber in 2003. In addition to his highly varied career, Massimo also acts as Aber's unofficial ambassador in Italy and he is willing to assist any Aber alumnus with locating and/or doing business there. Contact him at italy@alumni.aber.ac.uk
What do you remember most about your time at Aber?
Aber was for me a peaceful, lively, international university town by an often stormy sea, surrounded by relaxing but steep green hills: a sort of landlocked paradise logistically difficult to reach, emotionally difficult to leave. With a landscape similar to the Italian region I came from (Liguria), I felt at home at first sight: Moneglia-Aberystwyth, more than one thousand miles from one friendly place to another!
I have so many nice memories ... first of all the people I met there, from the students from all around the world to the university staff, always very friendly and helpful. Secondly, the atmosphere of the town: romantic, mysterious, cultivated, proud and brave (you need to be brave to live at the mouth of a "winding" river!). Thirdly ... well, the nice walks at Tanybwlch beach, the Sunday market - Car boot sale on Clarach Bay beach, the trips to Mwnt (what a nice place) and Aberaeron, the warm university flat in Waunfawr, the musical "The Sound of Music" at the Arts centre, some friends who came to visit me (and who did not manage to open the entrance door of the seafront hotel they were staying due to the strong wind), the smile of one of the library wardens, a crow with a broken wing which I was feeding regularly ... very simple things which in Aber, where possibly time seems to go slower, you manage to appreciate to the full!
What are you doing now career wise and how has your Aberystwyth degree helped?
While in Aber I was a constant visitor to the Careers Office: it was there that I found a job vacancy for a junior research analyst position for an international organisation in the sugar sector based in Paris. With the help of the Careers advisors, I applied and, well, got the job! I spent eight years in Paris, so I could say that Aberystwyth brought me to Paris and that ... yes, there is life after Aberystwyth!!
After Paris I worked as a consultant in the agri-food sector for an NGO in Brussels and for a research company in Bologna (Italy). It was then time for me to try a change of career and I went into tourism marketing: I worked for a Congress Centre in Genoa (Italy) and for a Leisure Company in Lorca (Spain).
Now, besides freelance consultancy, I am establishing my own business in the wine and clothing sectors.
So, how has the Aber degree helped? I had already a degree in Political Science from an Italian university and getting an MSc (Econ) in International management at Aber gave me a more complete and higher profile to enter the international job market.
What advice do you have for a student doing your course now?
Be involved 100%! Be curious. Meet other students and build up a network. Take advantage of all the services offered by the Careers Service. Ask for help whenever you need it. Plan on doing an EU funded international work experience project such as as the Leonardo programme or the Erasmus for young entrepreneurs.