Viktor Papatheodorou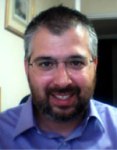 Viktor Papatheodorou graduated with a degree in Law in 2001. In addition to his successful career, Viktor also acts as Aber's unofficial ambassador in Greece and he is willing to assist any Aber alumnus with locating and/or doing business there. Contact him at greece@alumni.aber.ac.uk
What do you remember most about your time at Aber?
The three years I lived in Aber offered me experiences and memories that I will never forget. I met my wife, established beautiful and long-lasting friendships from all over the world, walked by the seaside and enjoyed coffees at the Union. I remember the difficult nights before the exams sharing my anxiety with friends and co-students, but at the end it was all worth it. An excellent environment for students, supported by experienced and helpful academic staff and a beautiful town.
What are you doing now career-wise and how has your Aberystwyth Degree helped?
I am currently a lawyer in Athens, being a partner in Viktor Papatheodorou & Partners Law Office located in the centre of the city. Although currently practicing in a Greek civil law legal system, studying Law at Aberystwyth University helped me adopt the proper process required to analyse legal issues and taught me the basic principles of the legal profession. The professors, lecturers and tutors of the Law Department were always supportive to the law students and open to discussions with them. After my degree in Aber, I did my Masters in London (UCL), where I used all the knowledge and experience obtained during my bachelor's degree in Aber. The successful practice of the legal profession depends on the strong foundations the law student acquires during his/her studies and the Law Department of Aber is successfully orientated towards this goal of providing one with that strong background of legal knowledge, a background which accompanies one throughout one's career.
What advice would you have for a student doing your course now?
In view of the fact that the law degree consists mainly of a theoretical approach and analysis of the relevant legislation and case law, the law student should expand his/her knowledge by reading as many of the relevant Journals, Reviews available to him/her through the Library, as he/she can. The textbooks provide one with only a basic coverage of each legal subject, but the deeper understanding of legal matters is achieved by constant reading of other legal sources. However, the most important thing when dealing with legal questions as a lawyer is not knowing all the answers out of hand but rather knowing where and how to look for them.