Wenenda Garshon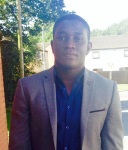 Wenenda graduated from Aber with a BSc from the Institute of Biological, Rural and Environmental Sciences (IBERS) in 2014. In addition to pursuing a career in Agricultural Science, Wenenda also acts as Aber's unofficial ambassador in Nigeria and he is willing to assist any Aber alumnus with locating and/or doing business there, or share his experience of studying at Aber with anyone in Nigeria who would like to know more. Contact him at Nigeria@alumni.aber.ac.uk.
What do you remember most about your time at Aber?
I still recall a lot about my time in Aber, the excitement on my first night of arrival to university, the late nights spent in PJM or Rosser lounges completing assignments, shopping from CK's just to avoid going down the hill, but most especially the field trips and study tours organised by the most awesome department in Aber (IBERS).
What are you doing now career-wise and how has your Aberystwyth degree helped?
I am currently doing my National Youth Service program, to which I am teaching Agricultural Science at a senior secondary school. My degree has not only helped me to secure this position as an agricultural tutor, but It has also prepared me and granted me with an opportunity to pass on my knowledge to the young and aspiring agriculturist of my Country, bringing me a step closer to my career goal.
What advice would you have for a student doing your course now?
Be positive towards your chosen career path, it always seems impossible until it is done. Never hate statistics and business and remember that in the middle of difficulties lies an opportunity, only if you persist long enough to win. Also, take time out and participate fully in any social activities, get involved with societies, student ambassador, freshers' hero positions but most of all take advantage of the services offered by the career services. Enjoy your time in Aber and remember life has no limitations except the ones you make.