Yuko Nakauchi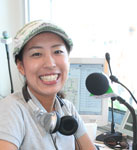 Yuko Nakauchi graduated with a joint degree in Welsh and Theatre & TV Studies in 2002.
What do you remember most about your time at Aber?
Beautiful scenery and people. Aberystwyth was very different from where I came from. I grew up in the centre of Tokyo where people hardly know their neighbours, so I instantly fell in love with the friendly atmosphere in the town. I felt people were so close to each other - I would always be bumping into someone I knew and start chatting on the street or on the campus, which does not happen very often in Tokyo. I felt very comfortable and secure in Aber and never felt homesick.
What are you doing now career-wise and how has your Aberystwyth Degree helped?
I did a joint course in Welsh and Film & TV Studies and took both courses through the medium of Welsh. Since I returned to Japan I have worked for S4C and BBC Wales as a fixer and translator. I am also a radio presenter in Japan. As I am the only Welsh speaker in Japanese media, I have been given opportunities to interview great Welsh artists such as Super Furry Animals, Katherine Jenkins and Duffy.
I am so grateful that my degree at Aber gave me such unique experience and skills and I am proud that what I'm doing now is very much related to what I studied there. I have also been appointed as the Education UK Ambassador by the British Council (Japan) after winning a UK Alumni Talent Contest to find alumni in Japan who best demonstrate the value of a UK education through their skills.
What advice would you have for a student doing your course now?
Aberystwyth is a great place to focus on your studies and build close friendships. Focus on what you like and pursue it - you may find something more that interests you. Remember lecturers and university staff are always ready to help you. Enjoy your Aber life!