Dr Katy Birch
BA MA (Wales) PhD (Birmingham)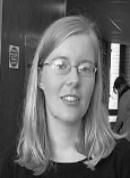 Teaching
Module Coordinator
Coordinator
Lecturer
Tutor
Katy's main teaching interests are in Romantic and Victorian literature. She teaches on the undergraduate modules The Mark of the Beast, Nineteenth-Century Literature and Creative Practice and the MA modules Romanticism's Radical Cultures and Poetry After Darwin. She also contributes to a range of other undergraduate modules.
Research
Katy's research focuses on Victorian women's writing, particularly poetry. Her PhD thesis examined the use of imagery of Darwinian evolution by feminist poets in the last decades of the nineteenth century. She is currently working on a monograph about female contributors to Punch magazine in the nineteenth and early twentieth centuries.
Publications
Birch, K
2022, '
Beyond the Punch Dinners: Female Writers and the Importance of Home and Family in the Creation of Punch
', Paper presented at Research Society for Victorian Periodicals 2022 Annual Conference,
15 Sep 2022
-
17 Sep 2022
.
Birch, K
2021, '
Women Writing the New Woman in Punch Magazine
', Paper presented at Women and Humour in the Long Nineteenth Century, London, United Kingdom of Great Britain and Northern Ireland,
23 Jun 2021
-
26 Jun 2021
.
Birch, K
2019, '
Autumn
'
Envoi
, no. 181, pp. 30.
Birch, K
2019,
Blind, Mathilde
. in L Scholl (ed.),
The Palgrave Encyclopedia of Victorian Women's Writing.
Springer Nature.
10.1007/978-3-030-02721-6_126-1
Birch, K
2019,
Gender, Anonymity and Humour in Women's Writing for Punch
. in A Easley, C Gill & B Rodgers (eds),
Women, Periodicals and Print Culture in Britain, 1830s-1900s: : The Victorian Period.
The Edinburgh History of Women's Periodical Culture in Britain, Edinburgh University Press, pp. 351-364.
More publications on the Research Portal