First Aid
Provision
As a large organisation AU is required by law to provide appropriate first aid measures for our staff, students and others who may be directly affected by our activities. To a large extent we rely on AU staff who selflessly volunteer for the important role of First Aider. There are a number of categories of First Aider, dependant on the role they play and the training they have received.
First Aid at Work Certificate
Three-day training course, with two-day refresher courses every three years.
These First Aiders form the backbone of first aid provision at AU. When called upon to help they are required to attend irrespective of their current activity (unless leaving the activity would be unacceptably dangerous). These First Aiders can be expected to be called to help at locations other than their normal building.
We maintain a level of about 50 such First Aiders distributed around AU to give even coverage (with slightly more in areas of higher risk). First Aid Courses are regularly offered by the Health, Safety and Environment department, and it is the responsibility of each Institute/Department to determine an appropriate number of first aid trained staff within their area(s). The Health and Safety Executive (HSE) Guidance for First Aid Provision is available in the table below.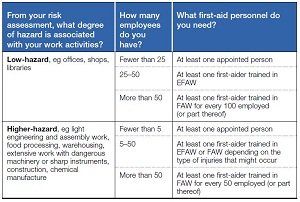 Current list of these First Aiders.
Staff who would like to take on this role are invited to approach their line manager and register their interest via the following link.
Emergency First Aid at Work
One day training course with a refresher every 3 years.
Persons who can take charge when someone is injured or falls ill, including calling an ambulance if required and are trained in basic emergency first aid. Provide knowledgeable support to First Aid at Work first aiders.
These First Aiders provide extra coverage primarily for their own department and are mainly drawn from volunteers responding to notifications of courses made via Departmental Safety Officers. We maintain a level of about 150 such First Aiders.
This level of first aid training is also suitable for fieldtrips with relatively low risk activities or location.
Postgraduate research students can join these courses if sponsored by their departments.
Other Types of First Aid Training
Specialist courses can also be arranged, for example Fieldtrip Leader first aid for activities in remote or hazardous locations. Departments would need to contact the Health, Safety & Environmental Advisor well in advance of the need for help with arranging such courses.
Some functions at AU require appropriate first aid training as part of the job (e.g. Sports Centre Lifeguards). Arrangements for such training is made by the department concerned.
First Aid Equipment
Standard first aid boxes are distributed around AU according to the perceived risk of local activities. Boxes or packs are also supplied for university vehicles and fieldtrips. Departmental Safety Officers (or their nominees) regularly check and maintain the boxes, which are marked with a white cross on a green background:
First aid at work qualified First Aiders are also issued with portable first aid kits to carry when they are called to an accident scene. Emergency First Aid at Work qualified First Aiders are issued with facemasks for use during CRP.
Supplies to maintain the standard kits are supplied centrally.
AU has an Automated External Defibrillator (AED) programme. A number of these devices have been placed at higher risk venues for the use of appropriately trained First Aiders (all First Aid at Work certificated and also Appointed Persons if they are based in buildings where the AEDs are located: Arts Centre, Sports Centre, Stapledon Llanbadarn and Old College).
Specialist first aid equipment may be required by some departments, which is generally their responsibility to obtain, but the Health, Safety & Environmental Advisor can assist in sourcing.