100 Years of Plant Breeding
100 Years of Plant Breeding
Introduction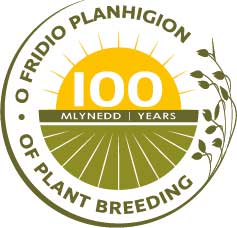 The early years of the Welsh Plant Breeding Station as a department within the University College of Wales, Aberystwyth sprung from the inspiration of Bryner Jones, Professor of Agriculture at Aberystwyth (later to become Sir Bryner Jones) and the financial generosity of Sir Laurence Phillips (later to become Lord Milford).
Its remit was primarily to improve livestock agriculture in Britain through the breeding of better varieties of grasses, clovers, cereals and other farm crops. At that time, grasslands of Britain generally provided only for basic animal maintenance: production of meat and milk was dependent on imported concentrates. The seeding of new pastures was hampered by seed of low germination and containing weed impurities, and at best the resulting swards consisted of stemmy grasses of poor nutritional value.
The visionary George Stapledon (later Professor Sir George Stapledon) was appointed as its first Director, with Dr T J Jenkin, Capt. R D Williams and C V B) Marquand[1] in charge of Grass, Clover and Cereal Breeding respectively. E T Jones replaced Marquand in 1922 (Stapledon, 1935; Waller, 1962; Williams, 1968; Colyer, 1982; Evans, 1987; Valentine, 2009).
At that time, the WPBS was based in the converted Green's Foundry near the railway station with plots on what is now the site of the Penglais campus of the University and Bronglais Hospital. The first plots were sown by Jim Lewis on 7 April 1919.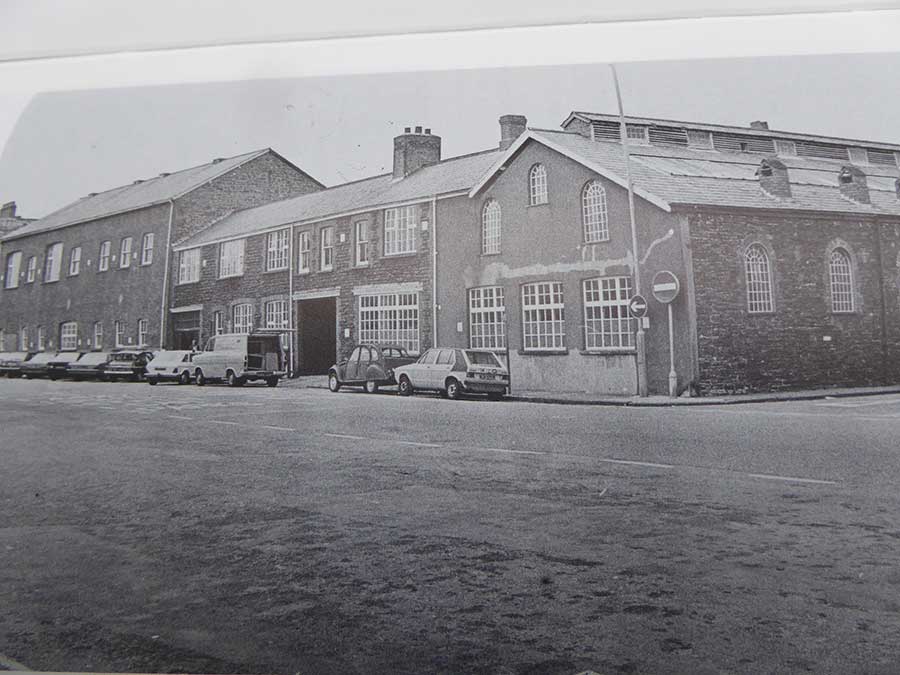 Photo: The Welsh Plant Breeding Station was established in the converted foundry in Alexandra Road. (Photograph by courtesy of NLW).
This year, we celebrate the centenary of plant breeding in Aberystwyth, with a new Director, Professor Iain Donnison, leading the Institute into the next 100 years. As well as looking back to the early years and to more recent achievements, we will speculate on where breeding and breeding research could go in the future given the exciting new tools that have been and are being developed.
The early pioneers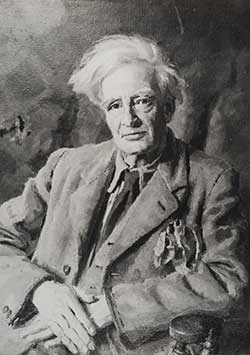 Emeritus Professor P. T. Thomas described the pioneers as a team working together with missionary zeal to achieve their objectives (Evans (1987). Undoubtedly, they showed excellent leadership skills inspiring their staff. Stapledon was no ordinary 'head-down' scientist- he has been described as not even being a particularly good experimenter (Waller, 1962, p126). He was the one with the vision and appreciation of the value of improved grassland, not purely as a scientific exercise but as the basis of a philosophy which he called human ecology. These ideas were the basis of a number of books, including The Land: Now and Tomorrow (1935), The Way of the Land (1942) and Disraeli and the New Age (1943). He was an engaging speaker, a skill which was put to good use when he led the Plough-up Campaign. It has been said that without the Plough-up policy the nation 'would have been starved of food and there would have been no military victories' (Sir Reginald Dorman-Smith, Minister of Agriculture in 1937, in Waller, 1962, p3).
In a social and personal picture of life at WPBS, Idris Jones recalls how if they were doing a little overtime to finish a job, Stapledon would appear loaded with cakes and 'pop' (Jones, 1982). Jenkin, in charge of grass breeding, was described as a very quietly spoken person with an aura of the scientist about him. Capt. Williams[2] was a world expert on clovers, full of confidence in his ability, an excellent rugby player[3] and later a first-rate golfer. His motto was 'Play hard and work hard'. In 1936, Idris became E T Jones' assistant in the Oat Department. He described E T as a real gentleman with a fantastic work rate.
Those responsible for activities associated with breeding should also be mentioned. Gwilym Evans was responsible for seed technology and legislation production from 1929 to 1961, being honoured with an OBE in 1959 for his contributions towards establishing a thriving home seeds growing industry. He published 200 papers which are archived in the National Library of Wales (Evans, 1987). As Land Director of the Cahn Hill Improvement Scheme from 1933, Moses Griffiths showed how to improve the hill pastures of Wales. He later became Grassland Advisor for the whole of Wales. William Davies was the Head of Grassland Agronomy between 1933 and 1940 and later was director of the Grassland Improvement Station in Stratford – upon – Avon and wrote a comprehensive book, 'The Grass Crop', published in 1961. Stapledon also collaborated with Professor T W Fagan, Head of the Agricultural Chemistry, who proved that the leaf is more nutritious than the stem so that grass breeding should aim to breed more leafy varieties (Waller, 1962).
Early achievements
Since the forage grasses are generally out-breeding and genetically heterogenous, Jenkin and later Arthur Beddows developed methods to breed and maintain pure varieties which were subsequently copied worldwide. These involved the selection of superior genotypes particularly from productive pastures – such as the Northamptonshire fattening pastures - that 'combined' well with other genotypes. The final synthetic varieties used a number of basic plants which when inter-crossed and multiplied over no more than four seed generations were adequate to prevent inbreeding depression conferring low vigour. A series of S varieties notably S23 and S24 perennial ryegrass and S22 Italian ryegrass were released in the early 1930s. These were leafier and more persistent than the commercially available varieties, leading to the establishment of substantially more productive grass leys with improved quality.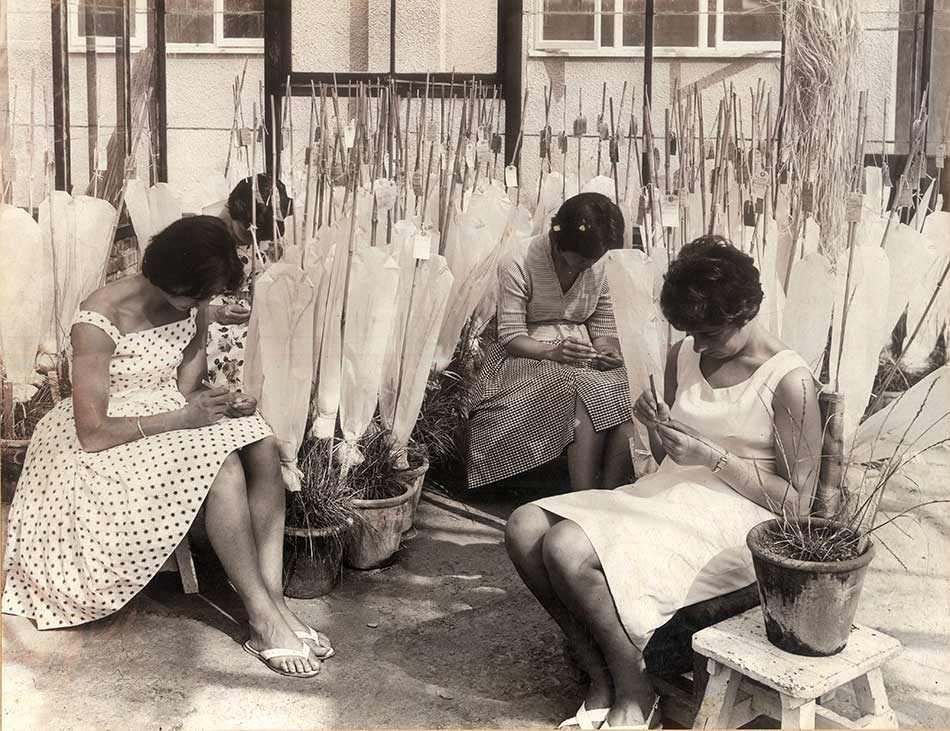 Photo: Cross pollination of grasses by hand.
When Jenkin succeeded Stapledon as Director of the WPBS and Professor of Agricultural Botany in the University College in 1942, grass breeding was continued by Beddows. Beddows was such an enthusiast that he devoted much of his leisure time to the study of the history of ryegrasses (Beddows, 1953).
In his early days, Jenkin selected two pure lines from Hen Gymro ('Old Welshman') wheat which were also given the S prefix (Evans, 1987). Seed of these still exists as attempts are being made to reintroduce old wheats to Wales for their ability to grow on poor land and their bread-making qualities (BBA, 2015).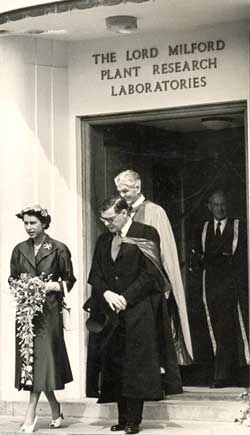 The University of Wales conferred the degree of D.Sc. on Jenkin for his work on grass genetics and he was also awarded a C.B.E. (Evans, 1987).
Likewise, Capt. Williams made critical studies of red and white clovers. He identified three Welsh varieties of red clover superior to wild red clover, of which Montgomery Late Flowering red clover is the most well-known. He studied the genetics of thousands of clover plants, selected mother plants as the basis of S123 and S151 red clovers and S100 and S184 white clovers and initiated breeding through hybridisation of different types. Sadly, his work was cut short by an untimely death in 1943, aged 54.
Oats were an important crop in Wales and other parts of the UK at this time. E T Jones bred the winter oats S147 released in 1938 and the short-strawed S172 released in 1939, two landmark varieties which combined the winter-hardiness of the weak-strawed landrace Grey Winter with the yield and straw stiffness of spring oats. S172 was probably Europe's first dwarf cereal variety (Valentine et al., 2002). Subsequent WPBS winter oat varieties included Powys and Padarn. Powys was awarded the NIAB Silver Cup in 1956 for outstanding merit.
E T Jones became Director of the WPBS and Professor of the University College in 1950, overseeing the move of the Station to Plas Gogerddan in 1955, one of the former great estates of Ceredigion bought from the Pryse family with University funds.
A period of expansion
Breeding and research in grasses, which was put on hold during the war years, was led by Beddows (Anon, 1956) and subsequently by Dr Edward Leslie Breese, a fine geneticist from the Birmingham 'school'. Clover breeding resumed under Watkin Williams and subsequently by Ellis Davies. Increased production was the main breeding target but, as in the early days, there was a realisation of the need that this could also be achieved by maximising herbage quality. (Hides and Humphreys, 2000).
There followed a period described by Breese (1997) as the halcyon days of government support and funding for agricultural research, largely coinciding with the politically astute Professor P (Percy) T Thomas as Director from 1958-74. 'P T' took full advantage of the situation to expand the scope and character of the Station's breeding and associated research activities. His approach was to co-ordinate and integrate the various scientific disciplines towards the common objectives of plant breeding[4] (Breese, 1997). Coinciding with the 50th Anniversary of the WPBS, PT gave the Annual BBC Wales Radio 4 lecture (Thomas, 1969). An amateur movie showing 50th Anniversary Garden Party has been preserved by the British Film Institute[5].
With increased funding, a Genetic Resources Unit was set up under the leadership of Bruce Tyler. Its role was to collect and evaluate germplasm from the UK and other countries for new valuable characteristics which could then be made available to the breeder. Characteristics being assessed included out-of-season growth and persistency under grazing, better digestibility, disease resistance and resistance to drought. Notable examples of important collections were those from the Po valley in N. Italy which provided valuable variation for exceptionally early spring growth and from Switzerland that resulted in Aurora and valuable material for future breeding programmes. It was reported in 1971 that the GRU assessed 200 populations annually (Anon, 1971). Survivors were also shown to form useful collections of adapted material (e.g. Charles, 1964).
Starting in the late '50s, Dr (later Professor) John Cooper[6], who was at that time a plant geneticist in the Grass Breeding Department, initiated the study of the physiological and developmental processes of the growing grass plant that would help breeders to define selection targets (Edwards, 2018). This soon resulted in the setting up of the Developmental Genetics department under John Cooper's leadership. 'J.P.' and his colleagues demonstrated that considerable variation that could be exploited by breeders existed for flowering time, leaf development and canopy structure (Cooper, 1959; Edwards and Cooper, 1963; Rhodes 1969). Cooper was awarded a D.Sc. in 1964 by the Reading University. His outstanding research was recognized by election to the Fellowship of the Royal Society in 1977 and by the award of the CBE in 1983.
In an article aimed at the layman, Breese 1968 hints at the difficulties of realising experimental yields under standard farming practice. He highlighted the potential of work which had already began on interspecific hybrids and the scope for selecting for, among other constituents, water soluble carbohydrates. As we will see later, these are two aspects which have had major impacts of the production of innovative scenario-changing grass varieties. A classic account of the genetic basis of breeding forages was produced by Breese and Hayward (1972). Other important contributors to grass breeding in the last 50 years have been David Hides, Pete Wilkins, Professor Mervyn Humphreys and Alan Lovatt.
This period also saw an expansion of arable crop breeding under Dr D J Griffiths and later by Dr J D Hayes. Much of the emphasis at this time was on breeding for disease resistance. New sources of resistance to oat mildew had been collected from the Middle East in a joint expedition with Canada. Resistance to club root and mildew was identified in wild Brassica napus.
Significant varieties during this period were the perennial ryegrass Sabrina, the Italian ryegrass Trident, the white clovers Donna, Menna, Nest and Olwen, the winter oat Peniarth, the spring oat Mostyn and the swede Marian.
Good and bad times
After the retirement of 'P T', John Cooper reluctantly became Director in 1975. He undoubtedly would have preferred to remain in the laboratory, glasshouse, growth room and field.
Soon after, Breese and his team's work on the breeding of fertile tetraploid interspecific hybrids came to fruition with the Station being honoured with the Queen's Award for Technological Achievement in 1976. The Award was presented at Gogerddan by the Lord Lieutenant of Dyfed, Col. Hanning Phillips, the son of Lord Milford. This was definitely one of the highlights of 100 years of plant breeding in Aberystwyth.
Fertile hybrids between perennial ryegrass and fescues (cvs. Elmet and Prior) were also produced in this period (Lewis, Tyler and Chorlton, 1973), with potential value in relation to flood avoidance and other characters (Thomas, Morgan and Humphreys, 2003; Macleod et al, 2013).
Excellent progress has been made in producing white clover varieties with increased persistence and reliability in a mixed sward (Abberton et al., 2005). A red clover breeding programme was restarted in 1998 to capitalise on red clover's value as a source of protein. Dr Ian Rhodes, Dr Michael Abberton, Professor Athole Marshall and Professor Leif Skøt have been important contributors to recent legume breeding.
In the Arable Crop Breeding Department, breeding programmes in barley and oats were strengthened by the appointment of Dr Rodney Habgood as barley breeder, Dr Dudley Lawes as spring oat and field bean breeder and later Dr John Valentine as winter oat breeder. Following thorough research (Boland and Lawes, 1973), effort was devoted to naked as well as husked oats. Naked oats thresh free from their thin husks, which together with the presence of energy-rich oil makes them exceptionally nutritious for feeding to pigs and poultry. Genetic resources from around the world have been used to breed new oat varieties, while cytogeneticists have also transferred resistance to mildew from wild to cultivated oats (Thomas, Leggett and Jones, 1975; Thomas, Powell[7] and Aung, 1980). More recent contributors to oat breeding and research have been Dr Sandy Cowan, Dr Catherine Howarth, Dr Tim Langdon and Dr Irene Griffiths.
The breeding of herbage and cereal crops was stepped up in the 1970s. This put the Station – which had become part of the Institute of Grassland and Animal Production (IGAP) in 1986 - in an advantageous position when it was decided that, from 1989, the so-called near market costs of breeding should be borne by the commercial sector. Long and fruitful relationships with Germinal Holdings and Semundo Ltd (now Senova Ltd) have followed. A further change of name and remit occurred in 1990 with the creation of the Institute of Grassland and Environmental Research (IGER). The metamorphosis of the Welsh Plant Breeding Station into IGAP and then IGER acknowledged the fact that the remit of a modern research institute had to be wider than plant breeding alone. Given the scale of research, it was clearly untenable to make the case that everything fed into the breeding of new varieties.
Sadly, the barley breeding programme was cut in 1986. Habgood joined Nickerson's Plant Breeders where he was rated as one of the best plant breeders in the UK. Ironically, the Institute of Brewing awarded the title of best new malting barley to the winter variety Pipkin, bred in Aberystwyth, in 1985. It fell to myself – an oat breeder – to travel to London for the presentation of a handsome silver tankard on behalf of the Station from Sir Ian McFarlane, Chairman of Guinness [8]. Pipkin remained a top malting variety throughout the 1980's and 1990's and has recently been used to make local provenance beers by Llanarth based Penlon Cottage Brewery.
Present research programmes have been shaped as much by prevailing circumstances as by scientific opportunities: the Rothschild customer-contractor principle, the MAFF near-market reviews, the partial privatisation of the plant breeding programmes and the restructuring of AFRC[9] animal production institutes (Stoddart, 1991).
It fell to Professor John Stoddart, the first Director of IGER, to undertake the necessary restructuring of IGER capabilities, placing greater emphasis on climate change, extensification and other environmental issues. A fresh-faced Professor Chris Pollock took over on John Stoddart's retirement, firmly nailing his colours to high quality multi-disciplinary research that took into account the inter-relationships between soil, crop, animal and atmosphere.
In 1994, we celebrated the 75th Anniversary of the founding of the Welsh Plant Breeding Station. In a conference on 'The Future of Agriculture: Production or Landscape', Dr Ken Edwards, then Chair of the IGER Governing Body highlighted the two-way information flow between basic, strategic and applied research as a significant aspect of the work at WPBS (Edwards, 1994.)
New opportunities in the 21st Century
In 2008, IGER merged with the Institutes of Biological Sciences and Rural Sciences to form the Institute of Biological, Environmental and Rural Sciences (IBERS), once again as part of Aberystwyth University. Professor Wayne Powell became its first director. He was able, in a period where Institute remits were relaxed, to widen the science base of the Institute and bring in new technologies, for which he must receive considerable credit.
The joined-up approach of IGER and IBERS to delivering research outcomes has indeed continued to the present day. In 2003, the NIAB Variety Cup for the variety combining improved quality with excellent agronomic performance was presented to IGER and British Seed Houses (part of Germinal Holdings Ltd) for the perennial ryegrass variety AberDart, bred by Pete Wilkins and his team. The NIAB Cereal Cup for the best cereal of the year was also presented to IGER and Semundo Ltd for the winter oat Gerald - 47 years after E. T. Jones had been presented with the same cup for the winter oat Powys in 1956. In 2007, IGER was awarded the RASE Technology Award for the development of innovative crop varieties, including high sugar and more digestible forage grasses, more persistent and consistent white clovers, high quality oats, improved turf grasses and disease-resistant pearl millet. These varieties have a significant impact both in the market and on end users. This impact was recognised in 2013 when IBERS won the Times Higher Education Award for Outstanding Contribution to innovation and Technology for its work on the breeding and development of high sugar grasses. These awards reflect the ethos of plant breeding research at WPBS, often in conjunction with other disciplines such as animal science, biochemists and microbiologists, by focussing on radical and innovative improvements, creating new scenarios rather than mere incremental changes aimed at adding varieties to Recommended Lists. For example, high sugar grasses not only improve digestibility and intake of fresh herbage and silage, but also increase the efficiency with which ruminants utilise the protein in fresh herbage, thereby reducing excretion of nitrogen in the urine. This has major implications for lowering nitrate concentration in water courses. Further progress in increasing sugar levels in ryegrass and other targets to meet policy objectives can be expected through the use of molecular biology for high precision breeding.
It is pleasing to report that the current senior grass breeder, Alan Lovatt, was awarded an Honorary Degree in 2017 in recognition of his long service, contribution and dedication.
In oats, a husked oat with low husk lignin conferring very high potential for feeding to livestock has recently been added to the UK National List. A field bean breeding programme has been restarted.
In recent years, the Institute has diversified into crops for bioenergy and biorefining. Wild Miscanthus germplasm is found in Asia, and extensive collections have been made abiding by the UN Convention of Biological Diversity's principles of access and benefit sharing (Huang et al., 2018). One of the limitations of the use of Miscanthus as an energy crop has been the major cost of producing and planting clonally propagating rhizomes. IBERS has researched the agronomy of seed establishment and is now close to producing high-yielding and stable hybrid and synthetic varieties in which seed can be sown: a considerably cheaper method for producing fields of Miscanthus. Breeding progress in perennial energy crops has been summarised by Clifton-Brown et al, 2019. A small amount of effort has been expended in breeding the native reed canary grass (Phalaris arundinacea L.) using through between and within selection to derive the basic plants for a new high yielding synthetic variety (Jensen et al., 2018).
Genetic improvement aimed at meeting the scientific and policy objectives of BBSRC[10], Defra[11], the Welsh Government, the levy bodies, commercial industry and the EU forms a large part of the research programmes. The support of all of these organisations has been invaluable in driving forward research. Unfortunately, Defra has pulled back from its funding of research and this has caused funding problems. Thankfully, BBSRC has recognised the value of strategic funding to its eight institutes and the need to develop and maintain unique research facilities of national importance. IBERS shares BBSRC's aims are to deliver innovative, world-class bioscience research and training, leading to wealth and job creation, generating high returns for the UK economy.
There are several examples of research into new technologies at IBERS that offer considerable scope for use in 21st breeding programmes. Next generation sequencing and genotyping will allow rapid and precise selection of important traits. CRISPR/Cas9 is an extremely powerful gene editing technology not involving any recombinant nucleic acids (Martínez-Fortún et al, 2017). The multi-million National Phenomics Centre uses ten computer-controlled cameras using fluorescence, infra-red and near infra-red, laser and root imaging cameras to provide 3D images to produce precise phenotypic information of up to 850 individual plants on a 300m conveyor belt (Anon, 2012). It has been described as a magnificent piece of sci-fi, with all the man-appeal of a train set (The Curious Scribbler, 2012)!
In conclusion, we look forward to the next 100 years with great optimism in relation to the deployment of the above new technologies, for the development of technologies as yet unimagined and to a likely widening of breeding and research remits to meet the needs of a wide range of food and non-food supply chains. Partnerships between specialists in these technologies and adaptable plant breeders will be required, leading to the continued success of plant breeding in Aberystwyth.
References
Anon (2012) £6.8m Phenomics Centre Opens. Stapledon Society Bulletin. Issue 9. 4.
Abberton, M. T. Collins, R. Marshall, A.H. Webb, K J. and Skøt, L (2005). New traits and new tools: Forage legume breeding post CAP reform. IGER Innovations. 9, 24-27.
Beddows, A.R. (1953) The Ryegrasses in British Agriculture: A survey. University College of Wales, Aberystwyth. Welsh Plant Breeding Station. Bulletin series H. No.17. 81pp.
Boland P. P. and Lawes, D.A. (1973). The inheritance of the naked grain character in oats studied in a cross between the naked variety Caesar and the husked variety BO 1 /11. Euphytica 22 :582-591.
Breese, E.L. (1968). Improving Britain's grassland output. Herbage breeding aims surveyed. Span, 11, 3.
Breese, E.L. (1997) Professor P.T. Thomas. An appreciation. Grass and Forage Science. 52, 341-342.
Breese, E.L. and Hayward, M.D. (1972) The genetic basis of present breeding methods in forage crops. Euphytica 21 (1972) :324-336
Brockwell Bake Association. (c 2015). Hen Gymro. http://www.wheat-gateway.org.uk/hub.php?ID=41
Charles, A. H. (1964). Title. Journal of British Grassland Society. 19, 198-204.
Clifton-Brown, J. and 58 other authors. (2019) Breeding progress and preparedness for mass-scale deployment of perennial lignocellulosic biomass crops switchgrass, miscanthus, willow and poplar. GCB Bioenergy.11, 118-151.
Colyer, R. J. (1982). Man's Proper Study. A history of agricultural science education in Aberystwyth 1878-1978. Gomer Press. 182 pp.
Cooper, J.P. (1959). Selection and population structure in Lolium, III: Selection for date of ear emergence. Heredity 13, 461–479.
Edwards, K.J.R. and Cooper, J.P. (1963). The genetic control of leaf development in Lolium, II: Response to selection. Heredity 18, 307–317.
Cooper, J. P. and E. L. Breese. 1971. Plant breeding: forage grasses and legumes. In Potential crop production: a case study (ed. P. F. Wareing and J. P. Cooper), pp. 295–318. London: Heinemann Educational Books.
The Curious Scribbler (2013) The National Plant Phenomics Centre at Gogerddan. http://www.letterfromaberystwyth.co.uk/tag/ibers/
Edwards, K. (1994). Summary and conclusions. In: Welsh Plant Breeding Station 1914-1994. 75th Anniversary Conference. The Future of Agriculture: Production or Landscape, pp. 101-106.
Edwards, K. 2018. JOHN PHILIP COOPER CBE 16 December 1923—18 November 2011. Biogr. Mems Fell. R. Soc. 64, 89–106.
Evans, G. (1987). Pioneers of Gogerddan. Cambrian News, 95 pp.
Hides, D. H. and Humphreys, M. (2000) Plant breeding from WPBS to IGER. IGER Innovations, 4, 6-13.
Huang, L.S. and 20 other authors. (2018) Collecting wild Miscanthus germplasm in Asia for crop improvement and conservation in Europe whilst adhering to the guidelines of the United Nations' Convention on Biological Diversity. Annals of Botany Special Issue on 'Developing sustainable bioenergy crops for future climate'
, 1-14.
E. F. Jensen, M. D. Casler, K. Farrar, J.M. Finnan, R. Lord, C. Palmborg, J. Valentine, I. S. Donnison (2018). Reed canary grass: from production to end use. In: Perennial Grasses for Bioenergy and Bioproducts. Ed. E. Alexopoulou. Elsevier Inc.
Jones, I (1982). From the grass roots. A lifetime in the Welsh Plant Breeding Station. D Brown &Sons Limited. Cowbridge and Bridgend, Mid Glamorgan. 168pp.
Lewandowski, I., Clifton-Brown, J., Kiesel, A., Hastings, A. and Igba, Y. (2019). Miscanthus. In: Perennial Grasses for Bioenergy and Bioproducts. Ed. E. Alexopoulou. Elsevier Inc.
Lewis, E.J., Tyler, B.F. and Chorlton, K H (1973). Development of Festuca/Lolium hybrids. Rep of The Welsh Plant Breeding Station, 34-37.
Macleod, C.J. A. and 11 other authors. (2013) A novel grass hybrid to reduce flood generation in temperate regions. Scientific Reports, 3, Article number 1683 7pp.
Martínez-Fortún, J, Phillips, D.W. and Jones, H. D. (2017) Potential Impact of Genome Editing in World Agriculture. Gene Editing in Agriculture: Biotechnology and Biosafety: Emerging Topics in Life Sciences, 1, 117-133.
Morgan, K. O. (1994) Conference Opening. In: Welsh Plant Breeding Station 1914-1994. 75th Anniversary Conference. The Future of Agriculture: Production or Landscape, pp. 3 – 7.
Rhodes, I. (1969). The relationship between productivity and some components of canopy structure in ryegrass (Lolium spp). I Leaf length. J Agric Sci., Cambridge. 73, 315-320.
Stapledon, R. G. (1935). Work at the Welsh Plant Breeding Station during 1935. Aberystwyth. Journal of the Royal Welsh Agricultural Society 1935, pp. 124-125.
Stoddard, J. L. (1991). AFRC Institute of Grassland and Environmental Research 1990 Annual Report. Pp 7-12.
Stoddart, J.L. 2000. The impact of genetics and plant science on grassland agriculture. IGER Innovations 4. 15-23.
Thomas, H, J M Leggett and I T Jones (1975). The addition of a pair of chromosomes of the wild oat Avena barbata (2n=28) to the cultivated oat A. sativa (2n=42). Euphytica 24, 717-724.
Thomas, Hugh, W Powell, and T Aung, 1980. Interfering with regular meiotic behaviour in Avena sativa as a method of incorporating the gene for mildew resistance from Avena barbata. Euphytica 29, 635-640.
Thomas, H. M., Morgan, W. G. and Humphreys, M. W. Designing grasses with a future - combining the attributes of Lolium and Festuca. Euphytica 133, 19–26 (2003).
Thomas, P.T. (1969). Plants, Production and People. Annual Radio Lecture, BBC Wales. 28pp.
Valentine, J. (2009). 90 years of the Welsh Plant Breeding Station – a perspective. In: IBERS Knowledge-based Innovations. 2, 27-31.
Valentine, J., Cowan, S., Howarth, C and Langdon, T. (2002). One hundred years of progress in cereal breeding from Mendel to Molecular Selection – Oats. Proceedings of EUCARPIA Cereal Section, pp.79-82.
Waller, R. (1962). Prophet of the New Age. The Life and thought of Sir George Stapledon, F.R.S. Faber and Faber, London, 322 pp.
Williams, T. E. (1968). William Davies 1899-1968. Obituary. Journal of the British Grassland Society, 23, 265-267.
---
Footnotes
[1] Maquand served in the Royal Tank Corp in the First World War from where he was invalided out. After leaving Aberystwyth, he joined Kew where he earned a reputation as an expert botanist. Due to his impaired health, he took early retirement to live in Skye but sadly drowned while on a boating expedition in search of rare algae. Sprague, T. A. (1943). Obituary - Mr. C. V. B. Marquand. Nature. 152, 322–323 (18 September 1943).
[2] Served in the Eighth Welsh Regiment in Mesopotamia for the duration of the 1914-18 war.
[3] Becoming captain of the AU rugby team during his undergraduate years 1911-1914 (Evans, 1987).
[4] As an undergraduate student in the late 60's, I (JV) remembered a Saturday morning visit to Gogerddan, where P.T. put on a LP of Stapledon's memorial service. Afterwards, he asked whether we thought plant breeding was an art or a science. Always ready to stick my neck out, I answered 'A science', to which he said 'No, it's an art'. I suspect that had I answered that it was an art, he would have said that it was a science!
[5] https://player.bfi.org.uk/free/film/watch-welsh-plant-breeding-station-50th-anniversary-garden-party-1969-online
[6] John Cooper had worked for a year as a summer assistant at the WPBS in 1945, where he met his future wife, and for four years as a scientific assistant in grass breeding. Ken Edwards finished his article on John Cooper by saying that he was a wise man, a very fine scientist, a dedicated husband, father, grandfather and great-grandfather, and a generous mentor to many.
[7] Wayne Powell – becoming Director of IBERS in 2008.
[8] I recall giving a speech pointing out that the programme had been cut which was falling on deaf ears, so I quickly changed the subject hoping that the best team in the Wales v Scotland Rugby International Match would win. This went down extremely well. Scotland duly won.
[9] The Agricultural and Food Research Council.
[10] The Biotechnology and Biological Sciences Research Council, the successor to AFRC.
[11] Department for Environment, Food and Rural Affairs, the successor to MAFF.
Celebratory Events
Stewart Roberts Public Lecture
14th March 2019
Sponsored by the Stapledon Centre, this was the inaugural lecture to mark 100 years of plant breeding expertise in Aberystwyth, following the establishment of the Welsh Plant Breeding Station in 1919.
Click here for the Stewart Roberts Public Lecture News Item.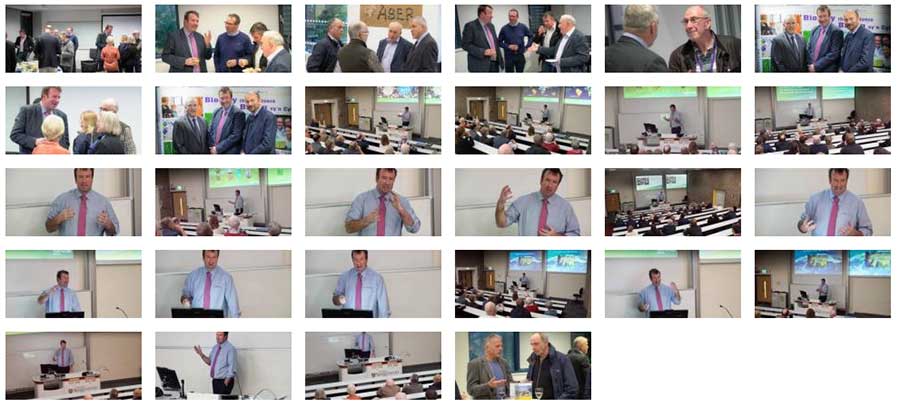 Click here to view the Photo Gallery of the Stewart Roberts Public Lecture Event.
---
Old Students Association Visit
23rd June 2019
Emeritus Professor Desmond Hayes presented a bench to Aberystwyth University during the proceedings

Click here to view the Old Students Association Visit Photo Gallery.
---
100 Years Of Plant Breeding Celebration Event in Gogerddan for ex members of staff
2nd July

Click here to view the Photo Gallery of the Celebratory Event for ex members of staff.
---