Maria Soroko MSc Equine Science
Equine thermography research scientist, author and owner of company "Equine Massage - Maria Soroko"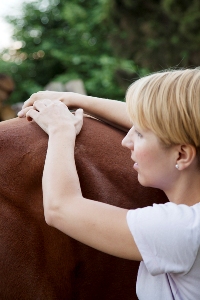 My interest in equine research began during my Equine Masters degree studies at Aberystwyth University seven years ago. This course helped me to further my career working with horses. My Masters dissertation indicated my interest in the application of thermography in sport and racehorses and also in their rehabilitation. After my MSc studies I achieved qualifications as an Equine Body Worker in sport massage and in remedial therapy. My skills and experience in equine physiotherapy were obtained both in Europe and Australia.

To help further improve my research knowledge I completed PhD studies within the Department of Horse Breeding and Equestrian Studies of Wrocław University of Environmental and Life Sciences. My PhD research centred on the effect of long-term training on racehorses' body surface temperature changes.

After completing my studies I started to run my own business "Equine Massage - Maria Soroko", offering equine rehabilitation and thermography services, cooperating with veterinarians, horse breeders and trainers. I also run professional courses and workshops associated with horse rehabilitation and the application of thermography in veterinary and sports medicine.

I also conduct research on the application of thermography in sport and racing horses, authoring numerous original publications and overview papers. I'm also the author of the book entitled "Equine thermography in practice", which describes the practical application of thermography in equine veterinary medicine and rehabilitation.

I recommend the MSc course to anyone who wants to work with horses in their future career.