Nia Davies, Hybu Cig Cymru/Meat Promotion Wales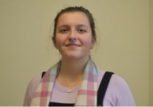 After completing a FDSc degree in Agriculture at Aberystwyth University I made the decision to 'top up' and went onto completing a BSc (hons) in Agriculture. During the final year of my degree and after graduating I worked for Wynnstay Group plc as a Trainee Dairy Specialist. However, during my time with Wynnstay I knew I could better myself and wanted to further develop my personal and professional skill set, especially with the ag industry becoming both increasingly technical and competitive.
To put it simply I really enjoyed completing my MSc in livestock science at Aberystwyth University. Although it was quite challenging at times, the course was incredibly rewarding. I came to understand complex scientific developments, wrote project proposals and disseminated and presented research. The range of modules from Infection and Immunity to Grassland Science really does provide anyone with a broad and extensive understanding of livestock sciences. Personally, statistical analysis was not my strength before starting the course, however after completing the research methods module I was able to successfully run statistical analysis on all my dissertation data, which is a great achievement.
Above all, completing this course really boosted my confidence. Confidence in myself and my knowledge, which became evident once I started to seek employment. There is no doubt that the MSc helped me achieve my role at Hybu Cig Cymru as Research and Development Officer. I would most certainly recommend anyone interested in progressing their academic or professional career to undertake this course.