The development of bioinformatics for breeding tools and resources which integrate the results of genotypic and phenotypic investigations
A major task in developing 'bioinformatics for breeding tools' is establishing a platform which can incorporate and integrate diverse data sets and link these to the appropriate analytical and visualisation software programmes. For instance, the science and breeding programmes at IBERS generate information on individual genotypes at the levels of the molecule (DNA, RNA, proteins and other metabolites), tissue and whole plant (physiology) and population (field performance, ecology). The aim is to establish a bioinformatics environment which is accessible to the specialist and non-specialist and which can facilitate science, breeding and decision making for our key crops at IBERS.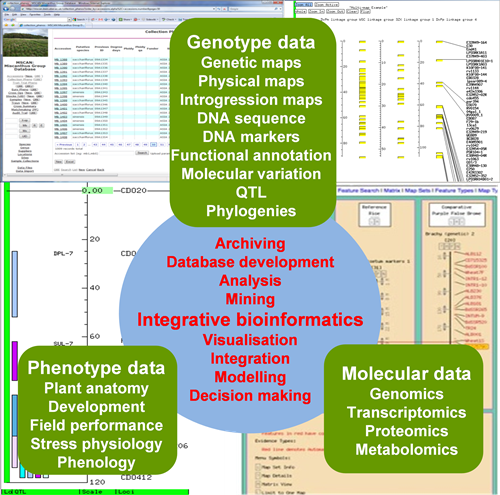 Contact Dr Narcis Fernandez-Fuentes or Dr Lin Huang for further information.