REF 2014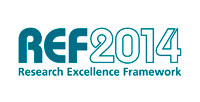 IBERS is proud to announce that the results of our joint submission with Bangor University to the Research Excellence Framework (REF) has confirmed the quality of our work in the areas of Agriculture, Veterinary and Food Science with 78% of our research being rated as world-leading or internationally excellent.
Based on research power (quality x quantity) this ranks the submission as 4th strongest in the UK in this area.
There was a particularly strong performance in how our research has benefitted society and the economy with 76% of our submitted cases studies judged as making outstanding impacts in terms of their reach and significance, i.e. the highest possible category.
These areas include:
The breeding of new varieties of pasture grasses, oats, rice, maize and pearl millet; improving the livelihoods of farmers and food security of the wider population in Wales, UK, India and Nepal;
Biotechnology to improve the production of food ingredients and brewing; conservation and sustainable management across a wide range of systems from marine fisheries, peatlands, upland grazing and grassland fungi;
Predicting and combating climate change through improved ocean forecasting, marine energy production, biomass crop production and carbon foot printing of food products.
In addition to Agriculture, Veterinary and Food Science IBERS' staff were also part of joint submission with Bangor colleagues in the area of Earth Systems and Environmental Sciences with 89% of the research rated as world-leading or internationally excellent. In our submission to the Sport and Exercise Sciences, Leisure and Tourism panel, 98% of our research was judged to be internationally significant.
Professor Mike Gooding, IBERS Director said
"Our joint REF submission with Bangor University in Agriculture, Veterinary and Food Science is the strongest submission in terms of quantity and quality in this area for a UK institution without a vet school.
This highlights the importance and quality of our research at IBERS, leading in areas of importance to the UK, and sustainable food production worldwide. At the University, we are actively pursuing plans for a future vet school which will further strengthen our expertise in this arena.
Our excellent results in Impact follow hot on the heels of the announcement earlier this week of additional funding of £20million to realise the £40million investment in the Aberystwyth Innovation and Enterprise Campus in Gogerddan."