Biomass Conversion and Biorefining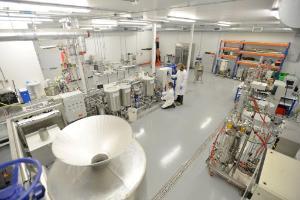 Research within the Biomass Conversion and Biorefining group is focused on the translation of underpinning research to develop new products and processes. The overall aim is to mitigate climate change, producing a range of products including those traditionally produced by the petro-chemical industry using biomass as a feedstock. This includes developing technical solutions for extracting greater value from biomass at a range of scales.
Research within the group has an industrial focus with many of our projects involving industrial collaborations to develop economically and environmentally sustainable processes and products for driving a 'green economy'.
Key activities within the group include:
Development of feedstock and quality characterization including chemical analysis, saccharification and fermentation
Assessing gene function using transformation technologies
Biomass processing at industrially relevant scales using our pilot-scale biomass processing facility.
Thermal conversion and biochars
Process optimization using multi-factorial design
Synthetic chemistry
Enzyme discovery and development
Microbial Discovery and pathway manipulation
Life cycle and economic analysis
Projects
Research Projects (Current)
BBSRC/FEPESP (2017-2021) An integrated approach to explore a novel paradigm for biofuel production from lignocellulosic feedstocks. Lead Bath/Unicamp
BBSRC BB/P004849/ 2016-2018 Process improvement to enable economic production of prebiotics and demonstration of efficacy in feeding trials
BBSRC/DST 2014-2017 Subsea Utilisation of Macroalgae in Biorefining. (Lead Durham)
Innovate UK: (2016-2018) Extraction and processing of components from a non-yeast substrate.
WG WEFO BEACON(+) (2015-19) Industrial Biomass Biorefining ww.beaconwales.org
BBSRC Strategic Programme Grant BB/J004421/1 (20012-2017) Energy Grasses and Biorefining
ERA-NET Industrial Biotechnology (2014-2017) Production of bio-based products from lignin, Lead Sintif. www.oxypol.eu
BBSRC NiBB BB/L0138191 (2014-2019) Co-Director. A network of integrated technologies; Plants to Products (Bath Lead) www.nibbp2p.org
EPSRC EP/K01479X/1 (2013-2017) Developing an Integrated Supply and Processing Pipeline for the Sustained Production of Ensiled Macroalgae-derived Hydrocarbon Fuels. (Lead Durham University) http://community.dur.ac.uk/p.w.dyer/page2/styled-2/index.html
EU Climate KIC ADMIT (2014-2017) Adaptation and Mitigation through Bio-Succinate Innovation. www.bio-succinnovate.com
DEFRA LINK (2011-16) Genetic Improvement in Miscanthus. www.miscanthusbreeding.org
Partnering Awards (Current)
2013-17 Optimising biomass conversion of Miscanthus (Taiwan)
2014-17 Exploration and exploitation of extremophiles for Biorefining (India)
2015-17 Industrial biotechnology (Brazil) (Lead Nottingham).
PhD Research Projects (Current)
BBSRC IBTI PhD studentship (2012-2016) Regulatory networks controlling yield and conversion efficiencies in feedstocks.
High Performance Computing Wales/Fujitsu PhD studentship 2013-2016 Enzyme Design using High Performance Computing. Co-I
Knowledge Economy Skills PhD Scholarships. (2016-2019) Understanding and Regulating the Genetic Transition of the Yeast to the Filamentous Fungal Phenotype; developing new tools for Industrial Biotechnology and Biorefining.
EU Climate KIC studentship (2014-2017) Development of processing technologies for the generation of lignin with applications in the production of high-value aromatic polymers and resin
EU Climate KIC studentship (2013- 2016) Optimisation of pre-treatment and fermentation processes for the production of Xylitol
ERDF studentship (2014-2016) Macroalge biorefining, enzyme discovery
ERDF studentship (2014-2016) Metabolic engineering of bacteria to enhance the production of specific organic acids.
Knowledge Economy Skills PhD Scholarships (2016-2019) Genetic manipulation of Lactobacillus to produce pure D or L forms of lactic acid.
BBSRC studentship Lipases for biotechnology applications
Recently Completed Projects:
ERDF WEFO (2011-15) Industrial Biomass Biorefining BEACON
EU Climate KIC (2013-2014) Horizon Scanning the European Bioeconomy BIOHORIZONS. Mapping the bio-economy industry to identify areas for growth, opportunity and innovation.
Innovated UK/L0006790/1 (2014-2015) Innovative bio-refinery integration: Chitin production from crab shell waste.
EU climate KIC (2015) Biorefining and energy outputs from Miscanthus.
WG CIRP/A4B (2013-2015) Sustainable Ryegrass Products (STARS) PI Aberystwyth, Lead Bangor University.
BBSRC BSBEC (2009-14) (£1.6M) Perennial Bioenergy Crops Research Led by Rothamsted.
EU Climate KIC (2013) Sustainable biogas process optimization and implementation strategies. Lead Wageningen,
BBSRC IBTI BB/I005390/1 (2011-2013) Isolation, fractionation and modification of fructans from ryegrass to produce novel biosurfactants and polymers as part of a ryegrass biorefinery. Lead Glyndwr University
WG CIRP/A4B) (2010-12) Fibres to products using enzymes.
WG CIRP/A4B (2009-12) High sugar grasses for the production of ethanol.
DEFRA RM LINK (2009-2012) Grassohol: Conversion of High Sugar Grasses to alcohol based transport fuel.
Facilities
‌Primary Processing Unit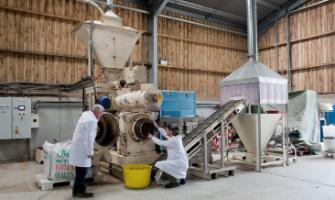 The primary laboratory has 252m2 of floor space and houses:
Integrated wet feedstock processing line
15kW hammer mill
10 inch interrupted flight screw press (7.5kW) capable of pressing 1 tonne fresh material per hour
A single phase, skid mounted 4 inch Vincent interrupted flight screw press for small scale trials of 50-200kg of material.
The press liquor is collected into two 750 litre (dairy) cooled holding tanks.
Pellet press line
Tote hopper into a vibratory feed to a 30kW hammer mill (3mm mesh)
42kW pellet mill with a production capacity of up to 400kg/ hour for woody biomass
3, 5 and 6 mm animal feed and biomass dies.
A wheeled (freestanding) vibratory feed hopper can be used to deliver premixed material directly to the front of the pellet mill for experimental batch production runs of 10 to 50kgs.
Secondary Processing Unit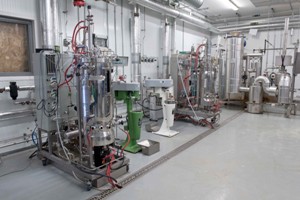 The pilot laboratory is an insulated mezzanine structure covering 168m2. The pilot laboratory comprises a variety of stand-alone and plug-and-play integrated equipment including:
Pre-treatment equipment:

A steam explosion rig for lignocellulosic pre-treatment. It is fitted with a 25kW integral steam boiler, capable of high temperature and pressure pre-treatment (>10 bar/180C) of lignocellulosic feedstocks. Skid mounted dual duty pasteurizer capable of rapidly heating liquid feedstock from 4°C to 90°C running at a rate of either 50 or 500 litres/ hour.
Bioconversion / Fermentation: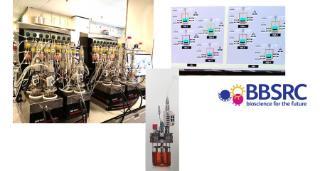 Funded through from a BBSRC Mid-range Equipment Initiative, Aberystwyth University have purchased a 16 vessel multi-bioreactor system, which is available to support collaborative, high quality research and innovation.
The system consists of 16 independently controlled mini-bioreactors, with independent heating, rotor speed control, pH and dissolved oxygen monitoring/regulation. Reactions can be carried in volumes from 20ml to 300ml. Heating range is from -20oC to 90 oC. The vessels are re-usable and autoclaveable.
10x 1L fermenters, 2 x 10L fermenters
Three Applikon steam-in-place bacterial fermenters, two skid mounted 70 litre units and one bench mounted 30 litre unit.
250L Steam-in-place fermenter
Separation systems:
Two CEPA Z41 floor standing continuous (batch) solid/liquid clarifying centrifuges suitable for harvesting fermentation biomass.
Horizontal decanter centrifuge capable of >1000 litres/hour for continuous centrifugation of liquid feedstocks where the solids content is >3% w/v.
Mobile skid mounted ultra/ micro cross-flow filtration pilot plant.
Mobile skid mounted nano filtration/ reverse osmosis system.
The system is rated to 40 bar and fitted with in-line digital temperature, pressure and flow sensors Bench-top cross flow filtration system.
Preparative and analytical capabilities:
Hiden Analytical HPR20 QIC R&D mass spectrometer for specialist gas analysis research.
Varian 3400 FID GC with autosampler.
Dionex/Shodex HPLC system with refractive index detector for carbohydrate analysis.
Large-scale six channel preparative flash chromatography system.
One large (20 litre) and several small-scale rotary evaporators.
Additional laboratory equipment including: floor standing and bench-top shaking incubators, Hot Box oven, autoclave, bench top centrifuges, balances, freeze drying facilities.
Pyrolysis Unit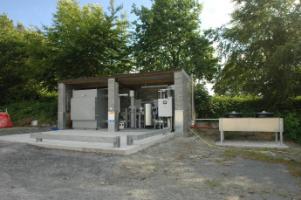 Aberystwyth University's thermochemical, biochar facility includes a bench-scale tube furnace, a pilot-scale batch slow pyrolysis plant and post-process analytical capabilities, designed to provide a wide-ranging biochar research facility to academic and industry clients.
More information on all facilites can be found on the BEACON-Wales website
Members
Funding
Funding bodies
Funded projects include:
Publications
Training/Opportunities
PhD opportunities
Genetic manipulation of Lactobacillus to produce pure D or L forms of lactic acid.
Understanding and Regulating the Genetic Transition of the Yeast to the Filamentous Fungal Phenotype; developing new tools for Industrial Biotechnology and Biorefining.
Related MSc courses in Biorefining at Aberystwyth University:
Conversion, Separation and Transformation Technology for Biorefining (BRM7720)