Herbivore Gut Ecosystems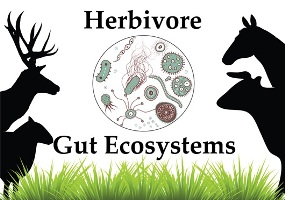 The HGE group consists of plant scientists, microbiologists and animal scientists studying the factors affecting gut microbiology of herbivores, primarily cattle, sheep and horses. Our research interests span a variety of disciplines and are funded by BBSRC, FSA, DEFRA, the Welsh Government, the European Union and industrial sources.
What we do
Our group carries out fundamental and applied research based around gut microbiology. We are interested in understanding and manipulating rumen function to minimise production of undesirable emissions (methane, nitrogen) by ruminant livestock (cattle and sheep). Hence we contribute to delivering the objectives of the Animal and Microbial Science theme in terms of development of sustainable agricultural systems and methods for mitigation of the environmental impact of ruminants.
Research into animal science at Aberystwyth combines large animal facilities with state of the art high throughput DNA sequencing and metabolite profiling facilities for the analysis of plants, animals and micro-organisms. We use molecular approaches (targeted PCR, metagenomic and transcriptomic profiling) plus non-targeted metabolite analysis to develop and apply an integrative approach to the microbial ecology of feed utilisation and to explore the interactions between bacteria, fungi, ciliates and methanogens.
As well as fundamental research into roles of rumen micro-oganisms, we are developing research in the area of host-rumen interactions, and established links to IBERS forage breeders enable us to explore how composition and post-harvest changes in forage can affect rumen outputs.
Group Members
(Group Leader, plant stress response, plant-microbe interactions)
Prof. Jamie Newbold (IBERS Research Director, rumen microbiology)
Dr Sharon Huws (Principle Investigator, molecular microbial ecology, rumen bacteria and protozoa)
Dr Neil McEwan (Lecturer, rumen microbiology)
Dr Justin Pachebat (Senior Lecturer, next generation sequencing)
Dr Chris Creevey (Reader in Rumen Systems Biology)
Dr Russ Morphew (Lecturer, Biochemsitry and Proteomics)
Dr Eli Saetnan (Post-doc, modelling methane mitigation)
Dr Alejandro Belanche Gracia (Post-doc, rumen N metabolism)
Dr Linda Oyama (post-doc in Novel antimicrobial compound discovery)
Dr Gabriel de la Fuente Oliver (Post-doc, microbial predator-prey modelling)
Dr Kenton Hart (Post-doc, methane mitigation)
Dr Eva Ramos Morales (Post-doctoral Research Fellow)
Mr Toby Wilkinson (Post-doc, Next Generation Sequencing and metagenomics)
Teri Davies (technical support)
Pauline Rees Stevens (technical support)
Hilary Worgan (Lab Manager)
Susan Girdwood (technical support)
Hannah Valin (Technical Support)
Eleanor Jones (Research Technician)
Pamela Heidt (admin support)
Facilities
HGE represents one of the largest group of scientists in Europe dedicated to work on rumen microbiology and rumen function. Because of our strength in depth, we have access to a high standard of technical skills with a range of facilities unlikely to be found elsewhere in Europe including:
Anaerobic culture techniques. Use of classical Hungate culture technique and its variants (including use of anaerobic chambers) for isolation and maintenance of strictly anaerobic bacteria and fungi. Skills and facilities for isolation and maintenance of anaerobic rumen protozoa.
Culture collection. HGE holds one the largest collections of anaerobic bacteria and fungi available for research. HGE co-ordinates the only available culture collection of rumen protozoa (represented as cryo-preserved cultures and a range of verified cDNA libraries prepared from these type cultures). Expertise in maintenance of anaerobic cultures plus classical identification techniques are available.
Use of animal models. Access to both sheep and cattle.
Habitat simulating fermentors. Access to a wide range of habit simulating fermentors. These range from simple in vitro batch culture (including the gas production system) to more complicated continuous fermentors including the rumen simulating fermentor (Rusitec) and dual flow rumen simulating fermentors. In addition chemostats are available for studies with pure and defined mixed cultures.
Population analysis in gut environments. Skills and facilities for traditional "wet" culture methods for enumerating and identifying microbes in the gut (including use of specific media, identification via substrate specificity and fermentation products, microscopic identification and enumeration of rumen ciliates etc) and in molecular methods of population analysis (including real time PCR, RFLP, TRFLP, ARISA, DGGE and SCCP analysis).
Microbial metagenomics. We house the IBERS Roche 454 GS FLX Titanium sequencing facilities and have significant expertise in the use of this and the Institute Illumina platform in both barcode analysis of gut microbial populations and microbial metagenomics and transcriptomics.
Molecular phylogenetic analysis. Expertise in microbial identification and phylogenetic analysis. In support of this work we have access to high throughput sequencing facilities and bioinformatics expertise.
Molecular transformations. Expertise in the production of genomic and cDNA libraries from gut microbes and the use of gene knockout and anaerobic transformation systems (conjugation, electroporation, transformation) in the study of microbial metabolism. Access to dedicated proteomics facilities giving access to a wide range of electrophoreses technologies and mass spectrometry.
Microbial metabolism. The group has an international reputation in the study of microbial metabolism, in particular we are using the developing field of metabolomics to quantify and qualify metabolic pathways in gut microbes both in pure and mixed culture. Fully equipped and staffed analytical facilities including NIR, FTIR, GLC, FPLC, HPLC, NMR, GC-Mass Spectrometry, HPLC-Mass Spectrometry amino acid analysis, enzymatic analysis and automated chemical analysis to analysis the consequences of microbial metabolism.
Research Projects
News and Publications
Postgraduate opportunities
Postgraduate research degrees
There are research postgraduate opportunities for EU and international students to study within the group for a MPhil and PhD degree, see IBERS Posgraduate Oppertunities for more information.
Fellowships
IBERS has outstanding facilities to host independent research fellowships within HGE related areas and we offer support and an excellent working environment to help develop your ideas.
Aberystwyth is a pretty good place to live too! We are actively seeking Fellows to work with us, so please feel free to discuss your ideas at an early stage. Please contact Alison Kingston-Smith, Sharon Huws, Jamie Newbold, Neil McEwan, Justin Pachebat or Denis Larkin for further details.