Mr Alan Cookson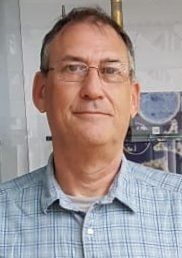 Research Scientist
Contact Details
Profile
Publications in the last 5 years:
Genome analysis, metabolic potential and predatory capabilities of Herpetosiphon llansteffanense sp.nov.
Paul Livingstone, Russell M Morphew, Alan Cookson, Edward Whitworth
June 2018 in Applied and Environmental Microbiology DOI: 10.1128/AEM.01040-18
The rumen microbiome: an underexplored resource for novel antimicrobial discovery
Linda B. Oyama, Susan E. Girdwood, Alan R. Cookson, Narcis Fernandez-Fuentes, Florence Privé, Hannah E. Vallin, Toby J. Wilkinson, Peter N. Golyshin, Olga V. Golyshina, Ralf Mikut, Kai Hilpert, Jennifer Richards, Mandy Wootton, Joan E. Edwards, Marc Maresca, Josette Perrier, Fionnuala T. Lundy, Yu Luo, Mei Zhou, Matthias Hess, Hilario C. Mantovani, Christopher J. Creevey & Sharon A. Huws
In Nature Partner Journal, Biofilms and Microbiomes volume 3, Article number: 33 (2017)
Buwchitin: A Ruminal Peptide with Antimicrobial Potential against Enterococcus faecalis.
Oyama LB, Crochet JA, Edwards JE, Girdwood SE, Cookson AR, Fernandez-Fuentes N, Hilpert K, Golyshin PN, Golyshina OV, Privé F, Hess M, Mantovani HC, Creevey CJ, Huws SA.
Frontiers in Chemistry, 2017 Jul 12 5:51. doi: 10.3389/fchem.2017.00051. 2017.
Endophytic bacteria in Miscanthus seed: implications for germination, vertical inheritance of endophytes, plant evolution and breeding. Naomi Cope-Selby, Alan Cookson, Michael Squance, Iain Donnison, Richard Flavell, Kerrie Farrar. Apr 2016. GCB Bioenergy
Polyphenol oxidase affects normal nodule development in red clover (Trifolium pratense L.). K. Judith Webb · Alan Cookson · Gordon Allison, Michael L. Sullivan, Ana L. Winters. Dec 2014, Frontiers in Plant Science
Differential Colonization of Plant Parts by the Rumen Microbiota is likely to be due to Different Forage Chemistries. Huws SA, Olga L. Mayorga, Theodorou MK, Eun Joong Kim, Alan Cookson, Charles James Newbold, Kingston Smith AH. Feb 2014, Journal of Microbial & Biochemical Technology
Gene Expression Patterns, Localization, and Substrates of Polyphenol Oxidase in Red Clover (Trifolium pratense L.) Kathleen Judith Webb, Alan Roy Cookson, Gordon Graham Allison, Michael L. Sullivan, Ana Winters. Jun 2013, Journal of Agricultural and Food Chemistry.
Responsibilities
IBERS Gogerddan Controlled Environment Facility Manager
IBERS Advanced Microscopy & Bio-Imaging Lab Manager
Publications