Prof John Clifton-Brown
BA;PhD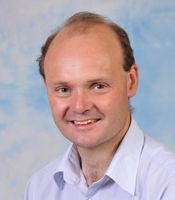 Professor
Contact Details
Profile
1993 Research Assistant, I.A.T.A., Florence, Italy.
1997-2000 Assistant co-ordinator to the European Miscanthus Improvement Project while based in University of Hohenheim, Stuttgart.
2000-2002 Term lecturer in Plant Physiology at Trinity College Dublin.
2002-2004 Site manager for the Greengrass and CCFLUX projects based at Teagasc, Carlow, Ireland.
2004-present Project leader, Miscanthus breeding programme.
I was recruited to IGER to lead the public funded Miscanthus breeding programme in August 2004. My background up to this date was in ecophysiology (incorporating agronomy and quantification of greenhouse gas fluxes).
In the current position, it is apparent to me that an ecophysiological approach to exploiting genetic variation can be used to increase the genetic potential of Miscanthus in terms of higher yields and qualities in diverse environments.
By working alongside molecular biologists (in particular Iain Donnison), the opportunities to link different disciplines has already born fruit: (i) a responsive mode proposal to BBSRC to examine flowering time as a key trait influencing both yield and quality has been accepted for funding, (ii) an approved pre-proposal in response to the BBSRC's call for a bioenergy research centre with colleagues in IGER, RRES, JIC and Imperial College London.
Qualifications
BA Natural Science, Trinity College Dublin (1989-92)
PhD Plant Physiology and Agronomy, Trinity College Dublin, Ireland (1993-97)
Thesis title: The importance of temperature in controlling leaf growth of _Miscanthus_in Temperate Climates.
Committee, editorial and other responsibilities
Regular reviewer of papers for Global Change Biology, Industrial Crops and Products and Biomass and Bioenergy.
Former committee member of AGMET (agrometeorology group) in Dublin Ireland.
Teaching
Grader
Research
Miscanthus breeding, ecophysiology, climate change impacts and modelling.
Projects
Breeding programme
Public and privately funded work
Underpinning science for breeding
Public funding and many collaborations within the BEC programme including
Flowering time
Drought
Resource capture and allocation
Publications
Awty-Carroll, D
, Hauck, B
, Clifton-Brown, J
& Robson, P
2020, '
Allelopathic and intraspecific growth competition effects establishment of direct sown Miscanthus
',
GCB Bioenergy
, vol. 12, no. 6, pp. 396-409.
https://doi.org/10.1111/gcbb.12680
Winkler, B, Mangold, A, von Cossel, M
, Clifton-Brown, J
, Pogrzeba, M, Lewandowski, I, Iqbal, Y & Kiesel, A 2020, '
Implementing miscanthus into farming systems: A review of agronomic practices, capital and labour demand
',
Renewable and Sustainable Energy Reviews
, vol. 132, 110053.
https://doi.org/10.1016/j.rser.2020.110053
Bhatia, R
, Winters, A
, Bryant, D
, Bosch, M
, Clifton-Brown, J
, Leak, D
& Gallagher, J
2020, '
Pilot-scale production of xylo-oligosaccharides and fermentable sugars from Miscanthus using steam explosion pretreatment
',
Bioresource Technology
, vol. 296, 122285.
https://doi.org/10.1016/j.biortech.2019.122285
Robson, P
, Hastings, A
, Clifton-Brown, J
& McCalmont, J
2020,
Sustainable use of Miscanthus for biofuel
. in C Saffron (ed.),
Achieving Carbon Negative Bioenergy Systems from Plant Materials.
Burleigh Dodds Series in Agricultural Science, Burleigh Dodds Science Publishing, Cambridge, UK.
Awty-Carroll, D
, Ravella, S
, Clifton-Brown, J
& Robson, P
2020, '
Using a Taguchi DOE to investigate factors and interactions affecting germination in Miscanthus sinensis
',
Scientific Reports
, no. 10, 1602.
https://doi.org/10.1038/s41598-020-58322-x
More publications on the Research Portal