Dr Rao Ravella
PhD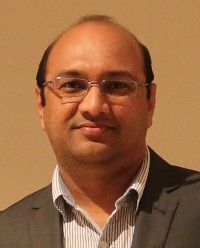 Microbiologist/Fermentation Scientist
Contact Details
Profile
Principal Investigator - Fermentation Science REF submitable scientist
My first degree was in Microbiology, followed by a PhD in Microbiology (fermentations). After a few years of Postdoc work at the Centre for Cellular and Molecular Biology (CCMB), Hyderabad, India, I moved to the UK. I joined IGER in 2007 as research scientist (fermentations) and worked at North Wyke - what is now Rothamsted Research. I joined IBERS in Feb 2012, as a fermentation scientist -part of the BEACON EU project- which focuses on biorefinery products and pilot scale fermentations. I am interested in characterisation of microorganisms especially yeasts from extreme environments for biorefinery products. Expertise in fermentations, Design of Experiments (DOE) concepts especially Taguchi method applied to biotech processes and process optimization. Involvement in several research programmes led to 60 international referred journal publications and highly cited (2000 citations, h-index -24).
Additional Information
Responsibilities
Currently: Scientist - BEACON biorefining EU project. Industrial Biomass Biorefining
Previously:
Co- Investigator: Climate-KIC Innovation: Adaptation and Mitigation through Bio-Succinate Innovation (ADMIT Bio-Succinnovate) and xylitol production (Value -14 Million Euro) -2013 -2017.
Co Investigator: Climate-KIC Pathfinder: Sustainable Biogas Process Optimisation & Implementation Strategies (Biogas2Market) - 2013 £2,50,000
Co- Investigator : Academic Expertise for Business (A4B): Knowledge Transfer and Collaborative Industrial Research. Sustainable Ryegrass Products (STARS) (2013 -15) £600k

Principal Investigator: Mycological contaminants of the diets of ponies (2011). £100K
Named Researcher: BBSRC LoLA: Engineering Synthetic Microbial Communities for Biomethane Production (2013 – 2018) £ 3.1 million*Co-I: BBSRC Masters training grant (2010-2013) £ 279,005

Co-Investigator: Benchmarked several biogas plants throughout Europe: EU AGRO-BIOGAS (513949) - European Biogas Initiative to improve the yield of agricultural biogas plants, funded by EU FP6 programme. 5.9 Million Euros
Developed Early warning system for biogas plants transferred to several biogas plants in Europe (2007-2010).
Scientist: Rothamsted Research, North Wyke, involved in EPS (Extracellular polymeric substances) research part of the North Wyke UK BBSRC strategic programme (2008-2012) £836,672 .
Member: BBSRC India partnering award: (2008-2011).
Outstanding performance award by Rothamsted Research in 2009.
Teaching
Additional Lecturer
Tutor
Lecturer
Microbial Biotechnology, fermentations, Design of Experiments (DOE), Taguchi Methods
Research
Microbial Biotechnology especially biorefinery products, microbiology, xylose utilizing yeasts and fermentation optimizations. Working with industries through collaborative projects.
Projects:
BBSRC Innovate UK Newton-Fund: (Oct 2018 to Sep 2021) UK-India Industrial Waste Challenge 2017: Lead: Aberystwyth University, Title of the project: 'BIOREVIEW: Biorefining Value from Industrial Waste' (Value £2.4 Million, for Aberystwyth University -£635,234) (VFAs, XOS, Xylitol production)
Innovate UK: TS/R010544/1 (May 2018- Jan 2021) 'Developing a process to manufacture lactic acid from waste-derived sugars', Project Category: Research Grant, Value £319,041
BBSRC funded: Bioreactor system for Industrial Biotechnology process development, Project Category: Research Grant, Aug 2017 - Aug 2018, Project Reference: BB/R000700/1 Value: £389,401
Queen Elizabeth II, Canadian Commonwealth Scholarships in Water and Energy, (2016 -2020) jointly submitted with University of Windsor, Canada. (Total value 1.7 Million Canadian dollars for 4 years)
P2P BBSRC NIBB funded, Project Title: 'Reducing Arabitol Formation to Improve Xylitol Production from Brewers Spent Grains; an exemplar process' (Apr 2018 – Sep 2018), Value: £54,939
Welsh government funded - Life Sciences Bridge fund 'Process for xylitol purification and crystallization' Jun 2017 to Mar 2018, Value: £64,288
Climate-KIC-Project title: 'Adaptation and Mitigation through Bio-Succinate Innovation' (ADMIT Bio-SuccInnovate), Project Category: Innovation -Research Grant, (Mar 2014 – 3May 2017) Total Project Value 14 Million Euro
Publications
Somani, A
, Smith, D
, Hegarty, M
, Fernandez-Fuentes, N
, Ravella, S
, Gallagher, J
& Bryant, D
2018, '
Draft Genome Assemblies of Xylose-Utilizing Candida tropicalis and Candida boidinii with Potential Application in Biochemical and Biofuel Production
'
Genome Announcements
, vol. 6, no. 7, e01594-17.
https://doi.org/10.1128/genomeA.01594-17
Walker, DJ
, Gallagher, J
, Winters, A
, Somani, A
, Ravella, SR
& Bryant, D
2018, '
Process Optimisation of Steam Explosion Parameters on Multiple Lignocellulosic Biomass using Taguchi Method – A Critical Appraisal
'
Frontiers in Energy Research
, vol. 6, 46.
https://doi.org/10.3389/fenrg.2018.00046
Williams, L
, Gallagher, J
, Bryant, D
& Ravella, S
2017,
Anaerobic digestion and the use of pre-treatments on lignocellulosic feedstocks to improve biogas production and process economics
. in LK Singh & G Chaudhary (eds),
Advances in Biofeedstocks and Biofuels : Biofeedstocks and their Processing.
vol. 1, Wiley, pp. 121-147.
https://doi.org/10.1002/9781119117322.ch6
Lalman, JA, Shewa, WA
, Gallagher, J
& Ravella, S
2017,
Biofuels Production from Renewable Feedstocks
. in PCK Lau (ed.),
Quality Living Through Chemurgy and Green Chemistry.
1st edn, Green Chemistry and Sustainable Technology, Springer Nature, pp. 193-220.
https://doi.org/10.1007/978-3-662-53704-6_8
Somani, A
, Bryant, D
, Ravella, S
, Fernandez-Fuentes, N
& Gallagher, J
2017,
Microbial Strains and Uses Thereof
, Patent No. GB1713622.7.
More publications on the Research Portal