Amal Abu-Bakare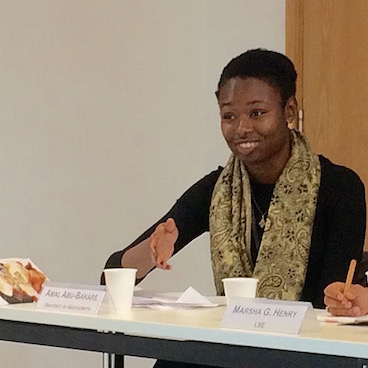 Profile
General Research Interests
Race and Racialisation in Security and Political discourse
Terrorism and Counterterrorism
Postcolonial and Critical IR Theory
Ethnic Conflict
Middle Eastern Regionalism
Publications and Conference Papers
Publications
"Acknowledging the Colour in Counterterror: Decolonizing 'Counterterrorism' in the Liberalist sense " (October 2016) – presented at Millennium Journal's conference Racialized Realities in World Politics, London (United Kingdom)
Funding Awards
Aberdoc and Presidential Scholarship, Aberystwyth University ,
Teaching Experience
Lakehead University ( Guest Lecturer)
2016 POLI-3515, Political Thought and Contemporary Issues
2016 POLI-4315-WA, Security and Conflict Resolution
University Warwick ( Guest Lecturer)
2015 PO219, Theories of International Relations
Research
Thesis
The proposed doctoral thesis is a theory grounded empirical study of contemporary British and Canadian counterterrorism approaches in the context of racialisation - the exercise of ascribing racial identities to social practices.
Using postcolonialism and critical race scholarship, this study will research 'how logics of racialisation structure Western counterterrorism approaches'? Through a discourse analysis of the counterterror responses of the UK and Canadian governments to the 2013 murder of Lee Rigby in Woolwich and the 2014 Parliament Hill shooting in Ottawa, the racialized securitization of Muslim 'bodies' present in Western counterterrorism discourse will be examined. By understanding counterterrorism as a complex racialised discourse linked to imperialist frameworks that are racially implicated, it is through this conceptual connection that 'countering terror' is hypothesized to have implications for debates around multiculturalism and racial violence in the West.