Aber Card
Your Aber Card is your Student ID Card / Staff ID Card and is an important resource giving you access to a range of facilities and services which, depending on your user status, may include:
library borrowing
library out of core hours (to enter and exit)
24 hour computer rooms
printing, photocopying and scanning
the AU Students' Union
the Aber Sports Card (separate payment required)
the purchase of food in the University's hospitality outlets
the door key to your study bedroom, depending on your Hall of Residence
The Aber Card carries your student or staff number, your photograph, your user category and a limited amount of digital information, including a barcode for use with the University systems.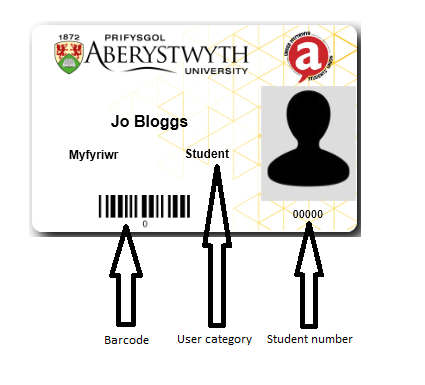 Applying for a card
All current Aberystwyth University students and staff members are entitled to an Aber Card. To ensure that your Aber Card is ready for you when you arrive on campus you will need to apply for it at least a week in advance. You can apply for your Aber Card by uploading a digital photo to: https://myaccount.aber.ac.uk/protected/newabercard
For further information on other categories of users who may be granted access to an Aber Card and library facilities, please see Access to Information Services. In the case of non-registered or external users it may be necessary to provide further verification of applicants details and here IS undertakes to produce new user cards with 48 working hours of the initial application if clearance is given.
Using your card
Your Aber Card will be needed every time you:
borrow a book, either from the Enquiry desk or Self Issue Machines in the Libraries
use a 24hr Computer Room
make copies or print on our self service photocopiers
register your attendance at lectures
You must never loan your card to anyone else.
In using your card for printing and photocopying you must ensure that you comply with the University's Copyright Agreement
Using your Aber Card at Hospitality outlets
Your Aber Card entitles you to a discount from all of the Aberystwyth University Hospitality outlets. All Students and Staff get a 5% discount when showing their Aber Card at the till when they pay. Students paying with their Aber Card Receive 10% discount off everything in all of the Hospitality outlets.
All students will automatically have their Aber Card set up with Hospitality, and for those in catered accommodation, your allowance will be loaded onto this card. You can top up your card at any of the Hospitality outlets or by completing the Top Up form from the Hospitality website.
Please note that amounts loaded onto your card for Hospitality cannot be used for paying for printing/photocopying or fines in the Library and vice versa.
Full details of the Hospitality scheme are available at: http://www.aber.ac.uk/en/hospitality/aber-card/
Replacement cards
You must inform IS as soon as possible if the card is lost, stolen or not working. A lost card will be blocked until it is found or a replacement is issued.
Replacement costs are as follows:
Lost card: £8.00

Broken / Damaged Card: free

Stolen Card (where police crime report number is given): free

Replacement Aber card with new photo: if you require your photo on your Aber card to be changed, there may be a charge up to £8 depending on individual circumstances. Please email is@aber.ac.uk.
Charges are made for replacement cards to cover the cost of the materials and processes involved in making the new card.
Replacement cards can be requested via https://abercard.aber.ac.uk and are normally available within 24 - 48 hours of payment.
Revalidating your Aber Card
The proximity functionality in your Aber Card (swipe function to open a SALTO door lock for example) requires you to revalidate by swiping your Aber Card against an update point at least every 30 days. Most external door swipes on Aberystwyth University buildings are update points or you can visit the Hugh Owen Library to have your Aber Card revalidated. Every time you swipe your Aber Card against an update point, your Aber Card will be revalidated for another 30 days. If you do not revalidate within 30 days, your Aber Card's proximity functionality will stop working but will work again as soon as you swipe your Aber card against an update point.
If you have any queries regarding your Aber Card please do not hesitate to contact us.
Where can I apply for a refund of my Aber Card credit?
Final year students

are able to request a refund or any outstanding Aber Card credit.
You can check your balance to see if you have any outstanding credit by logging in to

https://abercard.aber.ac.uk
If you have completed your studies, you can request a refund via

https://studentadmin.aber.ac.uk/
You will only be able to login to this page if you have credit to be refunded.