New Module for September 2018: 'Figuratively Speaking'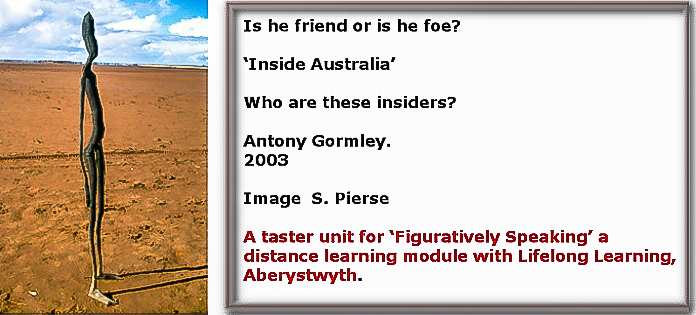 Site details: Lake Ballard, Western Australia.
Annual rainfall: 251mm
Age of lake: 1 million years old
Summer temperature reaches 46 Degrees C.
Lake surface: silty clay, covered in a salty crust in the dry season
Vegetation: samphire bush, eucalypt. Gallah's occupy the stubby trees
Distance from Perth: 728 kilometres
Nearest local settlement: Menzies: population 56
'Insiders' are:
52 figures standing remotely within a desert landscape
Body scans of the community reduced by 1/3
These represent the core of the body rather than a skeleton, where emotions and attitudes are embedded in the posture, sometimes as a result of pain. Gormley explains, 'the way in which emotion can be translated into a syntax of body posture.'
"A third man which we might not want to recognise" Gormley.
Listen to Ian McKewan's vivid description of visiting Antony Gormley's commission for the Perth Festival at Lake Ballard. He describes the experience as life changing. See http://lakeballard.com/ It's awesome!
Inside Australia: A commission for the Perth International Festival. 2003
"I wanted to try to find the human equivalent for this geological place. I think human memory is part of place, and place a dimension of memory." Gormley.
Gormley chose a remote part of Western Australia for this installation; over an hour's drive from a small settlement called Menzies and an eight hour drive from Perth City. Would anybody visit? For Gormley followers it is a must, but Gormley gained little financial recompense from this project and donated the entire installation to the community. The power of art is understanding who we are and where we come from is evidently strong.
Think vast landscape, big skies and encountering figures shimmering in the distance. Due to the sheer vastness of this project, visitors form tracks in the mud or salt crust creating a spider-web like pattern; an 'aboriginal songline' as it were. It is quite a remarkable and surreal experience. When I visited, there were but two other people there; I became self-conscious of one's own space but uniquely aware of the solitude and silence interrupted by the sarcastic calls of gallahs. No figure faces each other; we are given the experience of being nomadic creatures, wandering alone and encountering a fellow. Friend or Foe?
Gormley was hoping to net $1.8 million for this piece but due to lack of funding, he had to cut the project in half; 100 figures down to 50. They are all made from the mineral rich land that they stand upon. Can you find out what elements these were made from?
There are plenty of web sites that describe and illustrate this installation. Read the reviews and evaluate the success of this extraordinary project. How successful was this in the long term?
Each Unit will have compulsory and optional tasks. Here is an example of a task.
(choose one)
Gormley's initials are AMDG, the Latin abbreviation for Ad majorem Dei gloriam; (For the greater glory of God); the Latin motto of the society of Jesus. Most of Gormley's pieces are casts of Gormley's body. He needs to almost meditate to counterbalance the physical tension of his body being restricted / encased and focus on the will needed to create a body caste. With that comes silence, solace; He creates solitary beings. Do you think his work reflects this?
Compare the Australian 'Insiders' to his gallery based work. Do they create the same impact? Gormely states, "…the body cannot return to its old haunts, the plinth, the museum nor any of its old structures."
Would you consider Gormley to be a landscape artist using sculpture to illustrate his concept or a sculptor who uses landscape? Discuss.
How do these 'Insiders' compare with Cycladic figures.
Look at the works called 'Another Place' on Crosby Beach, North-west England. What comparisons can you draw between 'Inside Australia' and 'Another Place' from this installation?
This forms part of a unit for an Art History distance learning module called 'Figuratively Speaking': The Development of Western Figurative Sculpture.
If you would like further information or to enrol on this course please contact: learning@aber.ac.uk The course code is CA100
This is a 20 credit module at level CQFW4
With thanks for the contribution made by Antony Gormley.