Dr Jose Goni Perez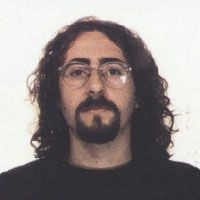 Research
Born in Spain, Goñi Pérez graduated in Spanish Philology from Murcia University in 1997, where he also finished his MA and PGCE in 1999. He completed his PhD in Spanish Literature (19th century) at Surrey University, Roehampton. He taught at Queen Mary, Roehampton and Kingston University before joining the department of Modern Languages at Aberystywth University in 2003. He is the President of the Association of Hispanists of the 19th Century. He has been the Editor of the journal Siglo Diecinueve (Literatura hispánica) since 2016. He is also a member of the editorial boards of the Universitas Castellae, University of Cantabria and Verdelís publishing companies. He is the co-founder of the Spanish Association of Military History (ASEHISMI). He is the co-owner of Les Editions du Paquebot publishing company (Paris). He has been the organiser of several international conferences. He has published widely on the relationship between fictional writing of the 19th century and history, medicine and the press. He has also published on 20th century Spanish postcolonial literature and Latin American modernismo.
Publications
Goñi Pérez, JM
, Avilés Diz, EJ (ed.) & de la Fuente Ballesteros, R (ed.) 2023,
Calas en las espiritualidades literarias hispánicas
. vol. 53, Universitas Castellae, Valladolid.
Goñi Pérez, JM
2023,
De pediatría y literatura: los cuentos de Manuel Tolosa Latour (1857-1919)
. in JA Maya González, AL Zavala Díaz & C Ximena Yáñez (eds),
Literatura, medicina y escritura en Iberoamérica.
vol. 15, Resurrectio. VI. Estudios (15) , National Autonomous University of Mexico, Mexico, pp. 291.
Goñi Pérez, JM
2023, '
Eduardo López Bago. Carne importada. Edición de Luis Álvarez Castro: Sevilla, Editorial Renacimiento, 2022. 283 páginas.
',
Siglo Diecinueve (Literatura hispánica)
, vol. 29, pp. 557-559.
Goñi Pérez, JM
2022,
Del estilo y el lenguaje: Juan Valera y sus críticos.
in M Benvenuto (ed.),
Estudios de Lingüística y Literatura : Estilo, Crítica y Traducción en el Siglo XIX.
vol. 51, Universitas Castellae, Valladolid, pp. 51-71.
More publications on the Research Portal