Bienvenida Spain!
Hello! We look forward to helping you with any questions you might have about studying at Aberystwyth University and can be contacted with the following details.
Contact: Jackie Jarocki
Email: jaj64@aber.ac.uk
Entry Requirements
Entry Requirements

Undergraduate

Titulo de Bachiller: Overall grade of 7 or above.

International Baccalaureate: Grade between 28-36.

European Baccalaureate: Grade of 65%-75% dependent upon course.

Some courses may have subject specific requirements in addition to the above.

Postgraduate

Generally, the minimum entry requirement for most taught Masters courses is a lower second class honours degree (2.2). However, some departments may require upper second class honours degrees (2.1) or relevant work experience.

| | | | |
| --- | --- | --- | --- |
| Qualification | UK 2:2 Class | UK 2:1 Class | UK 1st Class |
| Licenciado / Título de Ingeniero / Título de Arquitecto | 6.0 | 7.0 | 9.0 |

For specific requirements, please refer to the Postgraduate Admissions Office website.

English Requirement

6+ in English Language component of Titulo de Bachiller

IELTS Score of at least 6.0 - 7.5.

If you require help or assistance with your English then our International English Centre will be pleased to offer assistance and guidance. The Centre offers an intensive full-time course available before you commence your degree and provides ongoing support throughout the duration of your studies.
Scholarships
Undergraduate - Following the UK's decision to withdraw from the European Union, the Welsh Government has confirmed that EU students starting in 2021-22 will not be eligible for UK government funding. From the academic year 2021-22, EU students will be charged fees at the International student rate as seen below.
Postgraduate - Postgraduate Fees vary depending on course, mode, and level of study. For further information on Postgraduate fees please, see the table below or visit our Fees and Finance section for more information.
Name of Award
Value and Benefit
Further Details

International Accommodation Award

We are delighted to provide our international students with the International Accommodation Scholarship, meaning the cost of your housing is included in your tuition fees.

The University has several different accommodation buildings. The International Accommodation Scholarship is different depending on which halls of residences you choose but its either totally free or discounted by £2,000.

Students must meet the terms and conditions to be eligible for the offer.

3 x Scholarships (one per student) worth £10,000 for an applicant studying a Postgraduate Masters course at Aberystwyth University.

Funded in partnerships between the Welsh Government, Universities Wales, The British Council and the Higher Education Funding Council for Wales. Terms and conditions apply.
Please note students do not have to complete a separate scholarship form as they will be considered automatically.
For further information please do not hesitate to contact us: international@aber.ac.uk
Student Profile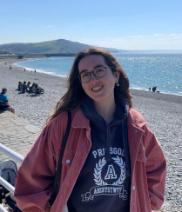 Lucia Martinez
(BSc Genetics)
What do you love about Aberystwyth and Aberystwyth University?
I love the town being by the sea and surrounded by nature. It is amazing how beautiful Aberystwyth is! What I love the most about Aberystwyth University is their willingness to make sure their students enjoy their time at university. They offer a wide range of support, from older students showing you around the campus to assistance with student finance or mental health problems
What have you enjoyed most about your course?
I really enjoyed how my course was delivered, the lecturers made lectures enjoyable and would be very receptive to feedback. I appreciated how if I ever had a question about the lecture I could just have a chat with them after a lecture or just send an email and I would always receive a helpful answer.
How did you find adjusting to life in Aberystwyth?
When I first came to Aberystwyth I was worried there would be a language barrier where I wouldn't be able to get my point across. However, I quickly realised everyone around me (flatmates, lecturers, classmates and even the wider community) was willing to make me feel welcomed and understood
What advice would you give someone considering studying at Aberystwyth University?
My honest advice would be to go for it! It is an awesome experience that you are not likely to get in many other universities, thanks to the size of the uni making friends is easy and you get to know your lectures by name which makes it that much easier and enjoyable. Also… make sure you bring a raincoat!
Have you joined any student clubs or societies and what have you enjoyed about them?
I joined the Spanish society in my 1st year, I enjoyed getting to speak in Spanish every now and then as well as attending the Spanish nights the society would organise. The rest of my time in Aberystwyth I joined the ACV (Conservation Volunteers), despite COVID disrupting a lot of the activities the society had planned I still got to enjoy beach cleans, dolphin watching, movie and game nights, etc.. and got to meet friendly and like-minded people who cared about how we treat the Earth and the things living in it.
Alumni Profile
Celia Rodríguez González

(BSc Economics)


"I think that the best thing about Aber is that you have everything you need every day in a small town. It is a very calm and quiet place (Although its night life is amazing also) and the seafront is very peaceful. Although I had missed my family, if someone told me to go back next September I would accept without thinking it too much."

Beatriz Gómez Leal

(PGCE Modern Foreign Languages)

" It is very easy to fall in love with Aberystwyth. A place full of life and unforgettable sunsets. It has the charm of a town but the possibilities of a city. It is a magical town with beautiful views. It was easy to adapt myself to this cit,. People are all very kind and have a heart of gold. The atmosphere is always very international and you feel like at home."