Aberystwyth - Our Location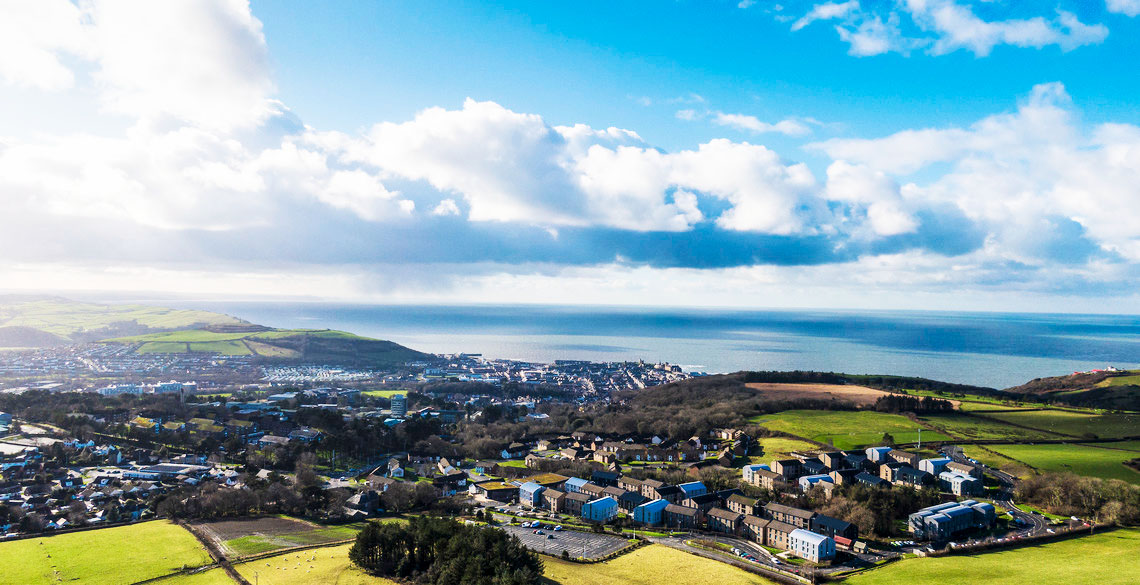 Aberystwyth is surrounded by a beautiful environment. Nestled between the Cambrian Mountains and Cardigan Bay it provides a rugged landscape of rolling hills, valleys, sand and sea. Even the famous national parks, of Snowdonia and Pembrokeshire, sit a short distance north and south of Aberystwyth, respectively, too.
With three beautiful beaches to choose from, North Beach (designated as a blue flag), South Beach and Tan-Y-Bwlch Beach, there's no better place try to spot some dolphins. Or in the summer, you can enjoy watching the sun go down with a small fire or BBQ.
Made up of colourful and characterful Victorian architecture, its buildings are formed around the landscape, overlooking the sweeping 2km promenade, where students, locals and visitors mingle as they walk, jog or ride along.
A lasting tradition dictates that students and visitors, alike, 'kick the bar' at the northern most point of the promenade underneath Constitution Hill (or 'Consti' as it's known to locals) as they take in the fresh sea air.
There is plenty to do both inside and outside of Aberystwyth. From visiting its numerous high-street and boutique shops, cafes and restaurants – to exploring the local sights of the National Library, Cliff Railway, Constitution Hill, Seafront, Bandstand, Old College, Castle Ruins, Harbour and more.
Outside of Aberystwyth there are great outdoors locations such as Nant Yr Arian and Hafod which provide great spots for wandering through woodland, trekking up hillsides or cycling down mountain bike trails. Keen triathletes, surfers, kayakers, mountain climbers and more will never have to travel far to enjoy their passions.
There are, of course, plenty of other sports and societies our students enjoy here too. With over 50 competitive sport clubs and a wide variety of over 100 societies these, along with Aberystwyth's location, provide the perfect backdrop to share interests, grow in community and make friends for life.
Aberystwyth was the first town in Wales to win the coveted Purple Flag for a welcoming and safe nightlife. Its lively nightlife also provides great entertainment, with the Aberystwyth Arts Centre, Student's Union, Royal Pier, a range of bars and pubs (all 52 of them!), night clubs and more – all in close proximity. You can enjoy a night of live music, stand-up comedy, a fun night out with friends and more.
Be part of our academic community that allows you to explore new opportunities and empowers critical minds, in an environment like no other.