TEF Gold award for Aberystwyth University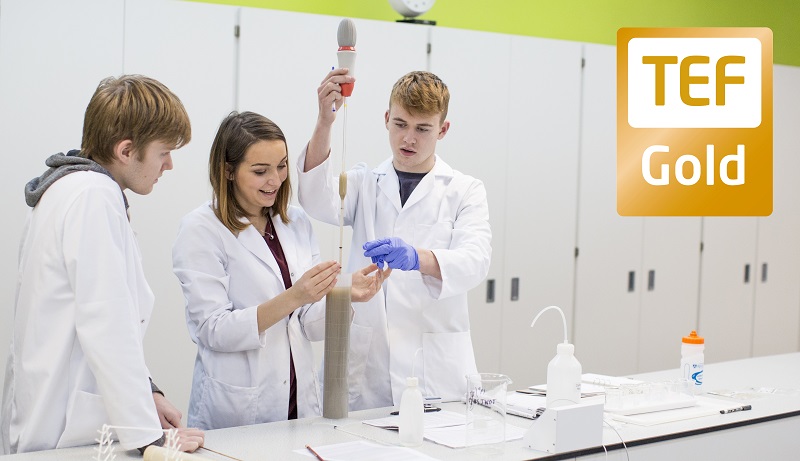 According to the Teaching Excellence Framework Aberystwyth University "delivers consistently outstanding teaching, learning and outcomes for its students. It is of the highest quality found in the UK."
Aberystwyth University has been awarded Gold in the Teaching Excellence and Student Outcomes Framework (TEF) published today Wednesday 6 June 2018.
The University achieved the TEF's top rating for delivering consistently outstanding teaching, learning and outcomes for students, of the highest quality found in the UK.
In its statement of findings, the TEF Panel commented that students from all backgrounds achieve "consistently outstanding outcomes" and cited Aberystwyth's "strategic and innovative approach to ensure outstanding student engagement with learning".
The report goes on to note that student satisfaction with assessment and feedback, and rates for continuation and progression to highly skilled employment or further study, are all above the University's benchmark.
The TEF Panel assessed the University's undergraduate teaching against ten criteria covering teaching quality, learning environment and student outcomes. It also considered written evidence submitted by the institution.
The Panel said its decision to award Gold to Aberystwyth reflected, in particular, evidence of:
course design and assessment practices that provide scope for outstanding levels of stretch, ensuring all students are significantly challenged to achieve their full potential, and acquire knowledge, skills and understanding that are most highly valued by employers
a strategic and innovative approach to ensure outstanding student engagement with learning
an extensive and embedded commitment to developing and rewarding excellent teaching
substantial investment in e-learning to promote outstanding opportunities for learning
a wide-ranging commitment to embedding employability into the curriculum and co-curriculum
a comprehensive and integrated approach to Welsh language teaching.
Professor Elizabeth Treasure, Vice-Chancellor at Aberystwyth University, said: "Our mission at Aberystwyth is to provide an outstanding 21st century education and all-round student experience. We achieve results by combining our strengths as a historic research-led institution with the latest thinking in innovative teaching, research and first-class facilities.
"We want to equip our students with the knowledge, understanding and transferable skills that will enable them to thrive in their chosen discipline and their future careers. The commitment of our staff to the highest standards possible is reflected not only in today's TEF Gold award but also our excellent NSS student satisfaction scores and our accolade as University of the Year for Teaching Quality 2018 in the Good University Guide."
Professor John Grattan, Pro Vice-Chancellor for the Student Experience at Aberystwyth University, said: "Students at Aberystwyth learn and live in an exceptional environment, where staff go the extra mile to provide teaching which educates, inspires and challenges our learners to achieve their full potential. It is by working together that we achieve such high standards across our provision in English and in Welsh, and our heartfelt thanks today go to the staff and students whose dedication and hard work have made this Gold award possible."
Bruce Wight, Development Officer at Aberystwyth Students' Union, said: "As an Aberystwyth graduate and an elected Students' Union officer, I know how hard this University works to ensure the best possible education and experience for students. There is close cooperation between staff, student academic representatives and union officers, which reflects the emphasis here on student engagement with learning and listening to the student voice. Detailed attention is paid to feedback and other key data, which means there is continuous improvement and innovation on the teaching front. This Gold award is well deserved and shows the value of an Aberystwyth education."
The TEF was set up by the Westminster Government to recognise excellent teaching in UK higher education providers by rating them as Gold, Silver or Bronze.
The results are designed to help prospective students choose where to study by providing information about the quality of undergraduate teaching in higher education institutions.
The ratings are judged by an independent panel of students, academics and other experts.
Further information about the TEF is available on the Office for Students' website.