Mrs Alison Pierse
M.A. Celfyddyd Gain, Prifysgol Cymru, Aberystwyth, TAR Prifysgol Cymru, Casnewydd, B. A. Anrhydedd Coleg Polytechnig Wolverhampton. Cymrawd yr Academi Addysg Uwch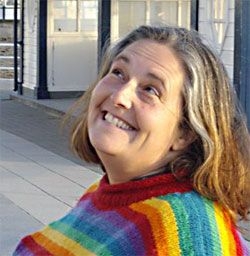 Profile
I am the Art and Design Coordinator and Professional Development for Lifelong Learning within Lifelong Learning. I have been working for the department for over 25 years and have seen many changes.
I am also a Lecturer in Museum and Gallery Studies.
My role as an educator and the need to keep learning is very important to me.
I taught for twelve years in schools in England and Australia as Head of Art and as an Artist in Residence before moving to Wales to join my husband. At this point I moved across the age range to teach adult learners, which is incredibly rewarding and humbling. What a good decision that was!
I too am an adult learner; I studied for an M.A. in Fine Art on a part time basis, juggling a busy job as well as keeping time to be there for my daughter and immediate family.
The Covid pandemic has created a thirst for adult learners to up-skill. We in Lifelong Learning have always been community focussed, we are here to help you bridge the skills gap to help you embrace.the 'sea change' in working practices and new digital skills.
My own work straddles mosaic and painting and I also run art heritage walks of Aberystwyth town.
The other body of work takes references from the 'Child Lost' paintings of Frederick McCubbin (1880s) which was a result of a scholarship enabling me to paint in Australia for five months. I have tried to portray a child exploring the wonders of the bush but also the harsh realities of the bush: the heat, drought, and the abundance of wildlife, with particular focus on the native birds. The red eyes of the choughs, the magpie's melancholy call, and the eeriness of the currawong's greeting.
I also undertake school residencies using mosaic as a tool to energise children and unleash their creativity. It is a tactile material and relates to what they are learning in primary history. It is also an excellent material to achieve big projects in schools.
Teaching
Module Coordinator
Coordinator
Lecturer
Museum and Gallery Education and Interpretation
Tutor Drawing, Painting and mosaic modules
Tutor Building Resilience
Research
Mosaics of Jeanne Mount - Forgotten Mosaic Maestro
'He called me his girl' - the love letters from a student evacuee
Responsibilities
Art and Design Coordinator
Professional Development Coordinator
Learning and Teaching Ambassador
Academic Champion for Employability