Charles Hartwell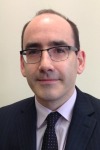 Charles Hartwell graduated from Aber in 1995 with a BSc, Accounting and Finance with Economics. He has worked at a number of successful organisations before taking up his position with Stowe Family Law at their Harrogate based head office providing a wealth of experience.
What do you remember most about your time at Aber?
Being from the Isle of Wight, being by the sea made me feel at home and one of the best memories that I have of Aber is the community spirit. As Aberystwyth is a small place, the university is the heart and soul of the town. As a result, there was a great atmosphere and I made some friends for life while I was there.
What are you doing now career-wise and how has your Aberystwyth degree helped?
I have had a varied career so far and worked across a number of different sectors, including professional sport, legal, cosmetics and hospitality. It is my financial background that has allowed me to transfer my skills across sectors, something that my degree has surely helped with.
I am now the Managing Director of Stowe Family Law LLP, the UK's largest specialist family law firm. My current role allows me to oversee the different facets of the firm and ensure that everything runs smoothly and the business continues to grow. When I joined Stowe Family Law back in 2014, I saw it as a rare opportunity to work within a fast growing business and one of the most high profile family law firms in the country. I joined Stowe Family Law from the Yorkshire Cricket Club in Headingly where I held the position of Finance Director for a number of years.
Furthermore, since graduating from Aberystwyth University, I became a member of the Institute of Chartered Accountants in England & Wales and am a past president of the West Yorkshire Society of Chartered Accountants. My first job was with the cruise line company, Cunard, before joining Estée Lauder as Senior Brand Accountant. During a time of high growth, I concentrated on both wholesale and retail for the company's Aveda brand. I thoroughly enjoyed this role and found it challenging and equally interest and developed a strong interesting in the products.
What advice would you have for a student doing your course now?
Enjoy your time at Aber as your university days will be the best of your life.
My course at Aber laid the foundations for everything that I have gone on to do since graduating and I advise students to grasp the opportunities that Aber offers and make the most of it.