Andrew Guy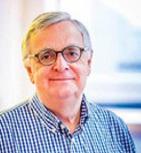 Andrew Guy is Chairman of The Coaching Inn Group, which owns and operates historic coaching inns at a dozen locations around the country. He has had forty years' experience in the casual dining sector of the hospitality industry, working in the UK, Europe and the USA. He is a Director of the industries trade body, the British Hospitality Association, and is a Trustee of the hospitality industry's leading charity, Hospitality Action. He received a 'Catey' award in 2003 as 'UK Group Restaurateur of the Year'. He was awarded the MBE in the 2015 New Year's Honours for his leadership in the industry and his charity work and became a Fellow of Aberystwyth University in 2016.
What do you remember most about your time at Aber?
Learning the discipline of having to manage your life away from home for the first time, planning study, sports (hockey in my case) and social life.
What are you doing now career-wise and how has your Aberystwyth Degree helped?
I am now Chairman of three companies, two of which are in the hospitality field and one in technology.
What advice would you have for a student doing your course now?
Don't worry about what it may lead to post-university. Work hard at it, and enjoy it, and the future will, surprisingly, take care of itself (advice in my first year from my personal tutor
John Garnett which turned out to be completely true).