Catherine Bishop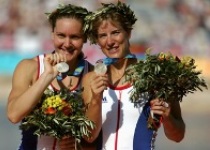 Catherine Bishop studied for an MPhil in International Politics at Aber (and was a research assistant to Professor Howard Williams, researching the political theory and events of German unification.) She is also an Olympic rowing Medallist, winning silver in the coxless pairs in Athens in 2004. She then worked for the Foreign Office for 12 years, specialising in conflict issues and posted to Sarajevo and Basra. She currently works as a leadership development consultant, speaker, facilitator and writer.
Cath was made an Honorary Fellow of University of Wales Aberystwyth in 2016, and is an Honorary Fellow of Pembroke College, Cambridge. She is a Steward of Henley Royal Regatta, a commentator for the BBC Boat Races and Henley Royal Regatta, and a regular newspaper reviewer on BBC Radio 4's Sunday morning programme 'Broadcasting House.
What do you remember most about your time at Aber?
Windy walks at the coast and brilliantly challenging International Politics seminars about the international system (particularly those led by Professor Steve Smith who was head of the Department at the time).
What are you doing now career-wise and how has your Aberystwyth Degree helped?
My time at Aber made me think hard about the workings of world affairs and gave me a both rigorous and broad international perspective on world events which I took into my career in the Foreign Office. It taught me to think about both theory and practice, and that is also very much part of my world now working in leadership development, looking at both the theory of organisations and the practice of what actually happens in the workplace. I continue to enjoy combining theory and practice in my Executive Education teaching at the Judge Business School, Cambridge University, as well as my consulting work in small and large companies, and thought leadership writing considering how we define performance and success in business, sport and politics.
What advice would you have for a student doing your course now?
International Politics is a fascinating and fast-changing world - challenge yourself and your lecturers to ask the difficult questions and get to the bottom of the real issues, which often aren't what you expect at the outset. Governments and non-governmental organisations grapple with international issues constantly and make a lot of mistakes visible to us all globally - so there's a lot to learn from, and lots of scope for new thinking and new approaches to improve the way organisations from civil society up to governments act in the future. There are big global issues (environment, equality, terrorism) which our current nation-state based system and international institutions are strugging to adapt and address effectively – that's the key challenge for international politics of the next period.