Chris Skirrow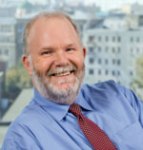 Chris Skirrow graduated with a degree in Botany in 1975 from Aber. He retired in 2012.
What do you remember most about your time at Aber?
One of the strongest memories is the tremendous sense of community. Friendships that developed at the time, in many cases, have stayed with me for all the years since. When we get together as alumni so much of the conversation revolves around the people we knew and the things we all did, a really shared experience. I also remember the environment. Aber was a tremendous place if you like the outdoors, particularly the sea. I still vividly remember watching the wild winter storms that would come in through the bay and crash into the prom.
What are you doing now career-wise and how has your Aberystwyth Degree helped?
I originally studied what we would now call Environmental Sciences but at the time it was a mixture of Botany, Zoology, Ecology and a number of related subjects. It was very different from when I was a partner in the world's largest auditing and consulting firm. The degree definitely helped in getting the job, graduate entry programmes with non-related degrees were not uncommon at the time- it was an indication that you knew how to think and had the basic abilities that an employer was looking for. When I graduated, I didn't think that there was much connection between my degree and a career in accounting, but, over time, the parallels between natural selection and corporate competition became very clear to me. While it didn't help me with the technical aspects of my job, it certainly helped me to look at things from a broader perspective.
What advice would you have for a student doing your course now?
Its not necessarily the course you take but what you make of it. Enjoy your time at Aber- it is a very special place, make the most of it. Find something that you enjoy doing and do it well. Make friends and keep them. Travel, it broadens the mind. Set goals for yourself and persevere, but don't forget to have fun on the way.