Geoff Knott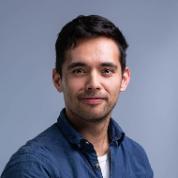 Geoff graduated from Aberystwyth in 2013 with a BSc in Astrophysics, having completed an 8-week Research Assistant placement at the end of his third year creating graphene within the Department of Physics.
After completing his PhD Mechanical Engineering at University of Surrey in 2018, he is finishing a Research Fellowship in the Design of Spacecraft Structures, and is focused on building his start up, HOP®, using edible insects in sports nutrition, food, and drinks as a sustainable source of protein.
What do you remember most about your time at Aber?
Making amazing lifelong friends, we recently noted starting our degrees a decade ago and meeting each other for the first time at a wine & cheese event in the Physics department!
Learning about how the universe works - I believe it's a character building experience, and more times than not most people are pretty interested amazed to learn about the solar system and space.
How strong my legs were, thanks to Penglais hill.
Great walks and mountain biking through the forests behind PJM, BBQs and sunsets on the beach, the amazing Ynyslas beach, going to lectures in flip-flops and shorts (in winter).
And I'll never know how we managed to train for 13.5 hrs/wk for badminton.
What are you doing now career-wise and how has your Aberystwyth Degree helped?
I'm finishing my PostDoc in spacecraft structures design and run multiple start up projects, primarily HOP®
My Aber degree equipped me with the solid STEM foundation and critical thought that's so important in every judgement and decision I've ever made since. I could not have predicted the path I've taken, and I think this is the case for most, you just have to adapt to the opportunities the current situation presents and make the most of it. I really believe my degree gave me that solid base

What advice would you have for a student doing your course now?
Be ambitious and keep an open mind on which way your career could turn
You gain so many STEM-derived skills that would be really useful for businesses generally. Don't ever undersell yourself!
linkedin.com/in/geoffrey-knott