Louise Rickard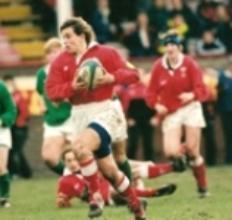 Louise Rickard graduated from Aber with a BSc in Biology in 1992 and a PhD in Marine Biology in 1996. She is the most capped player in the history of Women's rugby, having appeared 112 times as part of the Wales Squad.
What do you remember most about your time at Aber?
The university campus is on a beautiful site next to the sea and close to stunning mountain scenery. I remember many happy days on the beach and walking and mountain biking in the countryside. Aber is a welcoming community and I have many long lasting friendships from my university days. I studied Zoology for my BSc Hons degree and enjoyed the diversity of the course and its flexibility. I was grateful to be given the opportunity to spend my second year at UC Irvine. It was from my experience there that I developed my passion for marine biology which I carried on to study for my PhD. I was first introduced to rugby at Aberystwyth and this has led to a long international career (I have been capped for Wales 112 times). Rugby has enabled me to travel widely and meet many interesting people.
What are you doing now career-wise and how has your Aberystwyth Degree helped?
At present I am Head of Biology at Woodbridge School in Suffolk. I have been teaching biology and games since finishing my PGCE at Loughborough University. Taking only exam classes, the majority of which are A level gives me a chance to prepare students for the next step in life predominantly for university entry. Teaching has also given me the chance to be involved with students outside the class room by coaching and refereeing individuals and different team sports and becoming an officer in the Combined Cadet Force. The depth of knowledge I gained from my degree course has given me the confidence and skills to impart my knowledge and encourage students to become enthusiastic about the subject.
What advice would you have for a student doing your course now?
For students studying Zoology now I would recommend that they explore and make the most of every opportunity offered to them. I suggest that they work hard to obtain the highest classification of degree possible which will stand them in good stead for whatever career they pursue. Also they should enjoy all the other amenities, clubs and societies that the university has to offer so that they finish their education a full-filled and well-rounded person.