Megan Thompson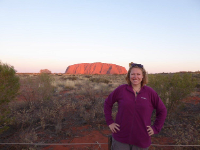 Megan graduated from Aberystwyth in 2019 with a BSc in Physical Geography, having studied for her second year as an exchange student at the University of Montana. She now works in administration and finance for the Institute of Mine Seismology in Tasmania, Australia.
What do you remember most about your time at Aber?
Such a huge smile appears on my face when I think back to my time at Aber! BBQ's on the beach, dressing up in countless costumes for society nights, trudging up Penglais hill, trudging up the Llandinam Building, wondering if Dr Bill Perkins would have the faintest idea of what I was trying to draw in Rocks & Minerals but to name just a few!
What are you doing now career-wise and how has your Aberystwyth Degree helped?
After graduating I spent 3 years backpacking my way around New Zealand & Australia before settling in Hobart, Tasmania. Since 2018 I have been working for the Institute of Mine Seismology (IMS), an independent private research organisation focused on developing methodologies, technologies and services for monitoring and modelling the seismic rock mass response to mining. My role in administration and finance covers a wide range of tasks from liaising with our international customers to organising workshops and conferences across the world. IMS are also currently supporting me through a Bookkeeping and Accounting course to further my knowledge and abilities in my current role. My degree was the whole reason I was offered this role. Having background knowledge (even if basic) in the area of seismology was enough to give me the boost over the other candidates; I was even asked to differentiate between P & S waves in my interview!
What advice would you have for a student doing your course now?
First and foremost, enjoy it, as three years whizzes past in a flash. Take the modules that interest you and make the most of any fieldtrips available. If you have the chance, study abroad. Spending my second year at the University of Montana was a dream and opened my eyes to courses and career paths I would not otherwise think existed. Do not be afraid if you get to third year and you are still thinking 'what on earth am I going to do next' because geography is such a multi-disciplinary degree that there are countless avenues you can explore and go down, and if still in doubt just throw on a backpack and travel the world you have been learning about in textbooks and see what happens.