Thomas Pegram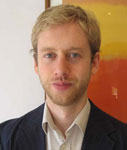 Thomas graduated from Aber in 2002 with a BSc (Econ) in International Politics with Law, followed by a PhD at Oxford. He is now a university lecturer in Dublin.
What do you remember most about your time at Aber?
Academically, what I appreciated most about Aberystwyth as I progressed towards obtaining my degree was the quality of the teaching and calibre of the faculty. It is a relatively small department with lots of opportunity to get to know your professors and fellow students. I also took advantage of the exchange programme to go to McGill University in Montreal which greatly enriched my undergraduate experience and complemented my studies at Aber well. On a more personal note, I found Aber to be a friendly university, with a surprisingly large international student body, in a quite magical setting - a huge contrast to growing up a stone's throw away from London. I have fond memories of trekking along the coastal paths up towards Borth at dusk with the sun setting over the water.
What are you doing now career-wise and how has your Aberystwyth degree helped?
I am a lecturer in political science (international relations) at Trinity College Dublin. I have held research fellowships at New York University and Harvard University Law Schools alongside completing a PhD in Politics from Nuffield College, University of Oxford. Aberystwyth undoubtedly played a big part in steering me towards my chosen career path in academia. The Department of International Politics at Aber is one of the very best globally and the faculty it attracts continues to be an important source of inspiration in my current work. The support of certain professors at Aber was instrumental in my development as a scholar. I remember distinctly the formative experience of completing my final dissertation - the almost obsessive enthusiasm for the topic at hand, the input of leading scholars in their field, and the very real satisfaction upon receiving my final grade.
What advice would you have for a student doing your course now?
Approach the course with an open mind and see where your interest takes you. The Aber department is a bastion of a more critical eclectic approach to the study of international politics than that pursued elsewhere. Take advantage of this intellectual freedom, choose topics that push you to think out of the box and look at the world in new ways. Make an effort to get to know your fellow students and professors; firm friendships made at Aber continue to enrich my life both personally and professionally. Make use of those opportunities that present themselves, in particular, I would recommend inquiring into the semester exchange programmes. A semester studying abroad is a great way to expand your horizons, study new topics, make new friends, and provide some perspective on what makes Aber special. Finally, try to keep a positive disposition even if the going gets tough. It will pay off.