Dr Susan Chapman
PhD Cymru, TAR, MA (Huddersfield), Dip Ed (Sheffield), Tystysgrif Uwchraddedig (UCE)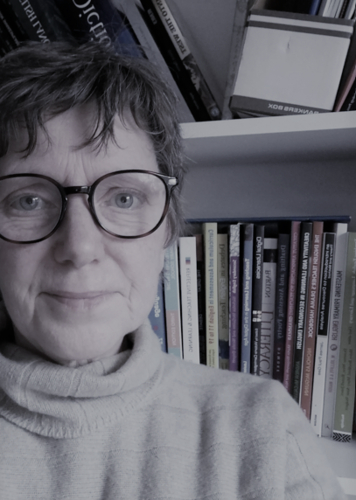 University Link Tutor- English
Lecturer
Contact Details
Profile
Before joining the School of Education, Susan taught in mid Wales and in Bradford. She currently teaches on the PGCE English course and on undergraduate modules specialising in language and literacy.
Teaching
Module Coordinator
Lecturer
Moderator
Tutor
Aspire Admin
Coordinator
Research
Susan's research interests include ITE mentoring; ITE pedagogy; English language and literature teaching. Current projects include the development of professional learning materials for ITE mentors. She is also a member of a network of ITE English lecturers in Wales and south west England, working on aspects of English teaching and English ITE. The group has presented at NATE and UKLA conferences.
Responsibilities
She oversees the cross-curriculum literacy provision for the PGCE course.
Publications
Watson, A, Kelly, L, Foley, J, Kneen, J
, Chapman, S
, Smith, L & Thomas, H 2022, '
Teacher agency in the selection of literary texts
',
English in Education
, vol. 56, no. 4, pp. 340-356.
10.1080/04250494.2022.2085550
Kneen, J
, Chapman, S
, Foley, J, Kelly, L, Smith, L, Thomas, H & Watson, A 2022, '
Teaching Key Stage 3 literature: The challenges of accountability, gender and diversity
',
Literacy
, vol. 56, no. 4, pp. 371-385.
10.1111/lit.12288
Smith, L, Thomas, H
, Chapman, S
, Foley, J, Kelly, L, Kneen, J & Watson, A 2022, '
The Dance and the Tune: A Storied Exploration of the Teaching of Stories
',
Changing English
, vol. 29, no. 1, pp. 40-52.
10.1080/1358684X.2021.1957669
Evans, R
, Lloyd-Williams, S
, Chapman, S
& Davies, P
2021, '
On lives, on learning: Online: A study of the lived experiences of stakeholders in the education sector in mid-Wales during the COVID-19 pandemic.
'.
Chapman, S
2021,
Shakespeare
. in A Watson & R Newman (eds),
A Practical Guide to Teaching English in the Secondary School.
Routledge Teaching Guides, Taylor & Francis, Abingdon Oxon.
More publications on the Research Portal