Dr Neal Alexander
BA (UW Bangor), MA, PhD (QU Belfast)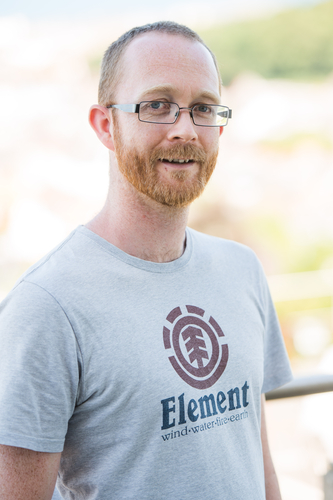 Additional Information
I have reviewed contemporary poetry and literary criticism for Textual Practice, Review of English Studies, The London Magazine, Planet, The Irish Review, Irish Studies Review, and Irish University Review, among others.
Some of my poems have appeared in Planet and Poetry Wales.
Teaching
Module Coordinator
Coordinator
Lecturer
Twentieth-century and contemporary literature, particularly poetry and fiction from Britain and Ireland. I also have teaching interests in Anglophone world literatures and in critical theory. I would be happy to supervise research projects in any of these broad areas, particularly if they intersect with my research interests outlined below.
Research
My main research interests lie in the developing field of literary geographies and are focused upon twentieth- and twenty-first-century writing from Britain and Ireland. I'm fascinated by the ways in which literary texts respond creatively to the social, political, and affective aspects of space and place, and by the peculiarly rich geographical imaginations that proliferate in modern and contemporary writing. I'm also interested in thinking through the implications of the so-called 'spatial turn' in the humanities and social sciences for the practice of literary criticism. As a result, much of my research is cross-disciplinary, drawing upon ideas in cultural geography, spatial theory, urbanism, and architecture, as well as literary studies. One of the products of this research is my monograph, Ciaran Carson: Space, Place, Writing (LUP, 2010), the first such study of one of Ireland's most inventive and challenging writers. More recently, I have also co-edited two collections of essays: with David Cooper, Poetry & Geography: Space and Place in Post-war Poetry (LUP, 2013); and, with James Moran, Regional Modernisms (EUP, 2013). I'm currently at work on a book-length study of contemporary literary geographies, and I am a member of the editorial collective for a new e-journal, Literary Geographies: http://www.literarygeographies.net/
I also have longstanding interests in the Anglophone literatures of Ireland and Wales, and in the relationships between them. I have published widely on contemporary poetry and fiction from Northern Ireland, and on representations of Belfast in particular. I've also written on W.B. Yeats and R.S. Thomas, the ecological poetics of Michael Longley and Robert Minhinnick, and on contemporary poetry in Wales.
A more recent strand of my research considers the representation of everyday life in literature, with particular reference to texts by contemporary British novelists such as Jon McGregor, James Kelman, Ali Smith, and Tom McCarthy.
Publications
Alexander, N
2022,
Basil Bunting's Vagabond Poetics
. in L Arrington (ed.),
Late Modernism and Expatriation.
Clemson University Press, Clemson, SC, pp. 127-141.
Alexander, N
2022,
Late Modernism and the Poetics of Place
. Edinburgh University Press, Edinburgh.
Alexander, N
2017,
Here and There: Poetry after Devolution in Wales and Northern Ireland
. in M Jarvis (ed.),
Devolutionary Readings: English-Language Poetry and Contemporary Wales.
Peter Lang, pp. 41-66.
Alexander, N
2017,
Senses of place
. in RT Tally Jr. (ed.),
The Routledge Handbook of Literature and Space.
Routledge Literature Handbooks, Taylor & Francis, pp. 39-49.
Alexander, N
2016,
Metropolitan modernity: Stories of London
. in D Head (ed.),
The Cambridge History of the English Short Story.
Cambridge University Press, Cambridge, pp. 269-285.
More publications on the Research Portal