Ms Sarah Wydall
BA (Hons) MMU; M.Sc. Surrey; PGCTHE (Distinction); FHEA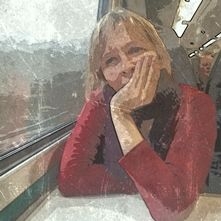 Profile
I am Director for the Centre for Age Gender and Social Justice. I lead on a number of research projects, including Dewis Choice that use co-production / participatory action research methods to develop new understandings about justice seeking and intersectionality in later life. I have secured external funding as Principal Investigator worth £1.9M from a variety of funders including the Ministry of Justice; the National Communities Fund; Comic Relief; The Older Peoples Commissioner; The Home Office; Welsh Government; Moondance, and CIDRA .
Teaching
My teaching areas cover victimology, justice mechanisms, the penal system and criminological research methods
Research
I am Principal Investigator on Dewis Choice Transforming the Response to Domestic Abuse in Later Life. Dewis was ranked as 4* (world leading) for impact beyond academia as part of the Research Excellence Framework 2021. The research from 2015-ongoing is the first longitudinal study examining the help seeking and justice seeking experiences of older people. The findings produced the first practitioner guidance dedicated to domestic abuse on older people, a range of podcasts, short films and toolkits . The Initiative is unique in that it also provides a bespoke service for older people experiencing domestic abuse in Wales. The service was co-produced by older people in 2015 and provides evidence-based training, support that integrates justice and well-being and runs community based activities to promote healthy relationships across the life course . See link https://dewischoice.org.uk/what-we-do/research/projects-at-centre/current-projects/
I was PI on eight other studies on gendered harms which include a research study examining the Co-existence of Domestic Abuse and Dementia funded by Comic Relief (April 2019-March 2020) Award : £92, 265, a Pan Wales study on Domestic Abuse, Hate Crime and Older People (funded by the OPC), a study examining Responses to Children and Young people experiencing Domestic Abuse, research evaluating the Making Safe Programme - an initiative that rehouses domestic abuse perpetrators and a qualitative study examining feminist praxis in developing grassroots responses to domestic abuse . I have also collaborated with colleagues from Aberystwyth, Cardiff & Surrey University on five UK projects These projects have focused on Domestic Homicide, a UK-wide study on Anti-Social Behaviour in Adults; Cognitive Behavioural Therapy Programmes in Prisons; & Domestic Abuse Perpetrator programmes.
Publications
Wydall, S
, Zerk, R
& Freeman, E
2023, '
Making the invisible, visible: Older lesbian, gay and bisexual victim-survivors' "lived experiences" of domestic abuse
',
Journal of Adult Protection
, vol. 25, no. 3, pp. 167-185.
10.1108/JAP-10-2022-0020
Miles, H
, Zerk, R
, Wydall, S
, Freeman, E
, Jones, AL
& Hancock, N 2022, '
'Through their eyes': virtual experience as a help-seeker of domestic violence and abuse
', Digital transformation: Wales Data Nation Accelerator (WDNA),
26 May 2022
.
Wydall, S
2021,
Intimate Partner Violence: Transforming the response to older victim-survivors in later life
. in J Devaney, C Bradbury Jones, S Holt, RJ Macy & C Øverlien (eds),
The Routledge International Handbook of Domestic Violence and Abuse.
1 edn, 14, Taylor & Francis.
10.4324/9780429331053-17
Wydall, S
& Zerk, R
2021, '
"Listen to me, his behaviour is erratic and I'm really worried for our safety…": Help-seeking in the context of coercive control
',
Criminology and Criminal Justice
, vol. 21, no. 5, pp. 614-632.
10.1177/1748895819898513
Gordine, C
, Wydall, S
, Zerk, R
, Chapman, T
, Joiner, A, Craine, J, Mitchell, X & Bulman, R,
Do You See Me?
, 2020, Digital or Visual Products, The Centre for Age, Gender and Social Justice. <
https://www.youtube.com/watch?v=If3o4nPbk08
>
More publications on the Research Portal