Prof Bjorn Weiler
MA (St. Andrews) PhD (St. Andrews)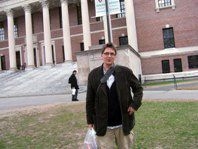 Profile
I am a graduate of the University of St Andrews, where I also completed my PhD on exchanges between the kings of England and the Holy Roman Empire in the thirteenth century. I was first appointed to a lectureship in medieval history at Aberystwyth in 2001. Previously, I taught at the universities of Swansea and Durham. I have also been a visiting fellow at the Centre for Research in the Arts, Humanities and Social Sciences (CRASSH) at Cambridge (2004), the Centre for Medieval Studies at Bergen in Norway (2006), the Radcliffe Institute for Advanced Studies at Harvard (2008-9), and the Freiburg Institute for Advanced Studies (FRIAS) at Freiburg in Germany (2010-11), and was a Visiting Professor at the University of North Carolina Chapel Hill (2015).
I have a strong and highly successful track record in MA and PhD training, supervising research students in diverse subjects relating to high medieval European (particularly English and comparative) history. I also convene the MA Medieval Britain & Europe.
External appointments
Former co-Director, Institute for Medieval & Early Modern Studies (IMEMS) (2010-14)
Fellow of the Royal Historical Society
Member of the Advisory Board for The Mediaeval Journal
Member of the Advisory Board of the Writing History in the Middle Ages book series
Member of the Haskins Society
Research
Politics and Political Culture in medieval Europe: How did people in the Middle Ages think about power? More specifically, I am looking at how – during the two centuries preceding Magna Carta - both kings and their subjects expressed sometimes conflicting expectations of royal power, how they sought to enforce these readings, and the means they employed to turn them into political reality. Kingship, Rebellion and Political Culture was published in 2007 (rev. paperback 2011). Another book, on the theory and practice of kingship in Europe, 900-1200, is forthcoming with Cambridge University Press. A taster is available here. In addition I have, together with Catherine Holmes and Jonathan Shepard at Oxford, and Jo Van Steenbergen at Ghent, been coordinating a broadly comparative project on politics and political culture in medieval Byzantium, Islam and the West. This has resulted in a co-written book, Political Culture in Three Spheres: Byzantium, Islam and the West, c. 700-1450, which will soon hit a bookshop near you. For some of the questions underpinning the book, click here.
Historical Writing and Historical Culture: How did people in the Middle Ages think about, why and how did they engage with the past, and what did they hope to gain from doing so? These questions are approached with relation to the thirteenth-century English chronicler Matthew Paris (one of the most prolific historians of the European Middle Ages), and to the historical culture of high medieval England and Germany. First results were published in How the Past Was Used: historical cultures, c. 700-200, ed. Peter Lambert and Björn Weiler, Proceedings of the British Academy (Oxford, 2017). A taster is available here. Future results will emerge during a Leverhulme Major research Fellowship (2019-22). See also the series of conferences organised on aspects of medieval historical culture organised by PhD students in the department.
England and Europe in the Central Middle Ages: From 2005-2013, Phillipp Schofield at Aberystwyth, Janet Burton at Lampeter, and I convened the Thirteenth-Century England conferences. My specific interest has been in the means and processes of interaction, but also in comparisons: what was specific about the English experience? The question continues to underpin my research and teaching, and various publications relating to this topic can be found here and here.
Publications
Weiler, B
2020,
Historical Writing in Europe, c. 1150-1300
. in B Guy, G Henley, OW Jones & R Thomas (eds),
The Chronicles of Medieval Wales and the March: New Contexts, Studies, and Texts.
Brepols, Turnhout, pp. 33-67.
https://doi.org/10.1484/M.TCNE-EB.5.118533
Weiler, B
2019,
Historical writing in medieval Britain: The case of Matthew Paris
. in J Jahner, E Steiner & EM Tyler (eds),
Medieval Historical Writing: Britain and Ireland, 500-1500.
Cambridge University Press, Cambridge.
Weiler, B
2019,
Thinking about power before Magna Carta: the role of history
. in J-P Genet & F Foronda (eds),
Des chartes aux constitutions: Autour de l'idée constitutionnelle en Europe (XIIe-XVIIe siècles).
Editions de la Sorbonne, Paris, pp. 3-26.
Weiler, B
2018, '
History, prophecy and the Apocalypse in the chronicles of Matthew Paris
',
English Historical Review
, vol. 133, no. 561, pp. 253-283.
https://doi.org/10.1093/ehr/cey081
More publications on the Research Portal