Dr David Jones
BA Ph.D. (Cymru) FRHistS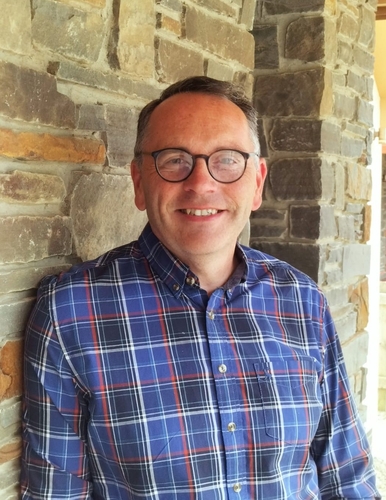 Profile
Dr David Ceri Jones BA PhD (Wales) is an early modern historian. His research focuses on the long eighteenth century, and the development of trans-Atlantic Protestant identities. He is currently leading a major research project on the trans-Atlantic evangelical, George Whitefield (1714-70). Some of his work has a Welsh focus, but he is committed to setting developments in Wales in wider British and Atlantic contexts.
Teaching
Research
David's research is currently focused on the trans-Atlantic revivalist, George Whitefield (1714-70). He is the Director of a project entitled 'George Whitefield and Trans-Atlantic Protestantism', and currently in receipt of a major two-year project grant from the Leverhulme Trust, which aims to produce the first scholarly edition of the extensive correspondence of George Whitefield. This edition will be published in seven volumes by Oxford University Press from 2020. David also co-organised the 'George Whitefield at 300' conference at Pembroke College, Oxford in June 2014, and has recently published George Whitefield: Life, Legacy and Context (Oxford: Oxford University Press, 2016). David has also recently co-edited The Routledge Companion to the History of Evangelicalism (2018), and is about to publish Making Evangelical History: Faith, Scholarship and the Evangelical Past (Routledge 2019). In addition, he is co-ordinating a multi-authored history of Christianity in Wales from the Romans to the Present to be published by University of Wales Press in 2020.
Office Hours (Student Contact Times)
Monday 2.00-3.00
Tuesday 2.00-3.00
Thursday 2.00-3.00
Publications
Jones, D
& Bebbington, DW 2018,
Evangelicalism and Dissent in Modern Britain
. in
Evangelicalism and Dissent.
Oxford University Press.
Hammond, G
& Jones, DC
(eds) 2016,
George Whitefield: Life, Context, and Legacy
. Oxford University Press, Oxford.
Jones, DC
2016,
George Whitefield and Heart Religion
. in J Coffey (ed.),
Heart Religion: Evangelical Piety in England & Ireland, 1690-1850.
Oxford University Press, Oxford, pp. 93-112.
Jones, DC
2014,
'Evangelical resurgence in the Church in Wales in the Mid-Twentieth Century'
. in A Atherstone & J Maiden (eds),
Andrew Atherstone and John Maiden (eds), Evangelicalism and the Church of England in the Twentieth Century.
Studies in Modern British Religious History, Boydell & Brewer.
Jones, DC
2014,
Calvinistic Methodism and the Reformed Tradition in Eighteenth-Century Wales
. in T Ó hAnnracháin & R Armstrong (eds),
Christianities in the Early Modern Celtic World.
Springer Nature, Houndmills (Palgrave), pp. 164-178.
More publications on the Research Portal