Our role in the community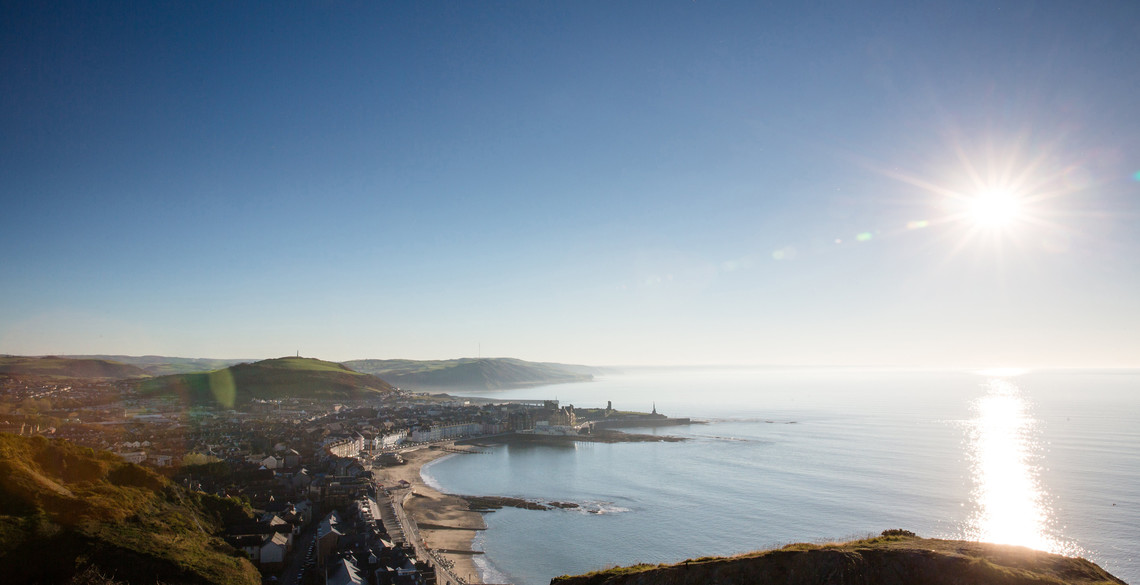 The University enjoys a close relationship with the community locally, regionally and nationally and is committed to developing its civic mission activities.
The University plays a key role in the economy, as a major employer and vital economic and cultural hub in the region. Much of its unique character comes from the combination of a diverse and cosmopolitan staff and student body, with a safe environment and sense of community shared by the University, the town and surrounding areas.
Aberystwyth Arts Centre
Located in the heart of our Penglais campus, Aberystwyth Arts Centre is one of the largest arts centres in the UK and attracts more than 700,000 visits every year from the town and surrounding counties. The award-winning centre is supported by the Arts Council of Wales and is recognised as a 'national flagship for the arts'. It has a wide-ranging artistic programme, both producing and presenting, across all art forms including drama, dance, music, visual arts, applied arts, film, new media, and community arts. The centre's facilities include a concert hall (The Great Hall), a theatre (Theatr y Werin), a performance studio, exhibition spaces, a boutique cinema, bookshop and café bars.
Aberystwyth University Sports Centre
Based on Penglais campus, Aberystwyth University Sports Centre (SportAber) is open to students, staff and the wider community. Every year, it welcomes more than 250,000 people to use its wide range of indoor and outdoor facilities. These include a fully-equipped gym, a swimming pool and saunarium, a climbing wall, an all-weather 3G pitch, squash and badminton courts, as well as a host of fitness and wellbeing classes. The University also has playing fields at Blaendolau and Vicarage Fields in Llanbadarn Fawr.
University Music Centre
The University Music Centre promotes a wide-ranging programme for performers and listeners. The Centre provides facilities for students and the local community. It has numerous pianos, a two-manual electronic organ, harp, harpsichord and chamber organ, as well as percussion and other instruments. The Music Library houses a large sheet-music collection with particularly strong holdings of chamber and orchestral music. Music books can be found in the Hugh Owen Library and, of course, the enormous resources of the National Library of Wales are close at hand.
The National Library of Wales
Situated next to the University's Penglais campus is the National Library of Wales, one of only five copyright libraries in Britain entitled to receive a copy of every book published in the UK. Students at Aberystwyth have free access to the National Library's 6 million books and journals, 5 million digital images and electronic resources, 30,000 rare manuscripts, 1.5 million maps, and 7 million feet of film, 15km of unique archives, and much more.
Public Services
Local services in Aberystwyth are provided by Ceredigion County Council and Aberystwyth Town Council and include education, a public library and recreation facilities.
Healthcare is provided by the NHS Wales Hywel Dda Health Board and includes Bronglais Hospital and a number of general practitioner surgeries. Dental services are available both privately and on the NHS.
Schools
Primary Education
Six primary schools cater for pupils aged 4 to 11, with a choice of English or Welsh as the main language of teaching.
Within Aberystwyth itself are:
Comin Coch Primary School
Plascrug Primary School
St Padarn Primary School

(Roman Catholic)
Ysgol Gynradd Gymraeg

(Welsh language)
Secondary Education
There are two schools covering ages 11 to 18, including sixth form (years 7 to 13).
Penglais School

Penweddig School

Large, primarily English-language, comprehensive school.

Waunfawr, Aberystwyth, SY23 3AW

(01970) 624811

Website

-

Map

Primarily Welsh-language comprehensive school.

Llanbadarn Road, Aberystwyth, SY23 3QN

(01970) 639499

Website

-

Map
Further Education
Healthcare
Hospital Services
Bronglais Hospital

located on Penglais Hill, provides a broad range of

hospital services.

Caradoc Road, Aberystwyth, SY23 1ER
Telephone: (01970) 623131
General Practitioners
There are three doctors' practices which accept NHS patients in Aberystwyth. If moving into the area either long-term or as a university student, you are encouraged to register with a doctor (or 'GP') as soon as possible after your arrival.
Dentists
Aberystwyth has five registered dental practices.
Eastgate Dental Surgery


29 Eastgate, Aberystwyth, SY23 2AR
Telephone: (01970) 621457
Vibrant Welsh Community
Shwmae and croeso (welcome!) to Aberystwyth University.
Welsh is a living language in Aberystwyth and throughout Wales.
Did you know that according to the 2011 Census, 562,000 people (19%) speak Welsh, and in Ceredigion, around half (47.3%) the population speaks Welsh?
Welsh is an official language in Wales and has equal status with English. This means that you will see both languages used on signs and displays, you will also be greeted bilingually on the phone and services will be offered in either Welsh or English.
The Welsh Government has a strategy, Cymraeg 2050 (Welsh 2050) that aims to have a million Welsh speakers by 2050, and is working closely with all sectors and communities in Wales to raise awareness, promote and encourage the use of Welsh. According to the Welsh Government School Census Results of 2019, 23% of pupils in Wales are educated in Welsh medium schools.
Ceredigion is considered one of the traditional strongholds of the Welsh language. The Welsh language is widely used in the workplace, in education, at home, and is also a vital part of local communities, organisations, clubs and societies.
Here are some fast facts about the Welsh language
Fast Facts | Learn Welsh

Learning Welsh
Did you know that Welsh is one of the fastest growing languages in the UK, according to Duolingo?
During your time in Aberystwyth, you may like to learn some Welsh. There are plenty of opportunities to do so here at the University.
If you are under 25, you can register on a Welsh course for free. For further information on learning Welsh during your time at Aberystwyth, please e-mail: learnwelsh@aber.ac.uk or visit the Learn Welsh Webpage.
Welsh at Aberystwyth University
Aberystwyth University is a bilingual institution where Welsh is used routinely in its teaching and administration. You may notice that we offer a wide range of Welsh medium modules and degree schemes. Students are able to study every module through the medium of Welsh in some departments or pick and choose Welsh medium and English medium modules so that they may study bilingually in other departments. Students also have the right to submit assessed work and to sit exams in Welsh.
Aberystwyth University operates a bilingual policy to ensure that the Welsh language is treated no less favourably than English. For example, general correspondence to students will be bilingual as well display material, telephone services, websites, and online services. Students also have the right to use Welsh in meetings with the university, and if needed 'simultaneous translation services' will be provided to facilitate this.
This is in line with Welsh language legislation. The most recent piece of legislation relating to the Welsh language, the Welsh Language (Wales) Measure 2011, sets out a legal framework which imposes a duty on Universities in Wales, among other organisations, to comply with 'Standards' relating to the Welsh language.
The Welsh Language Standards' purpose is to give more rights for people to use Welsh in their everyday lives. Universities are expected to further develop the use of the Welsh language based on the principle that the Welsh language should not be treated less favourably that the English language.
The University has its own strategy on the Welsh language. The Welsh Language & Culture Sub-Strategy 2019-23 highlights the main activities that make Aberystwyth University an ambitious bilingual institution which facilitates and promotes the use of the Welsh language. 'Addewidion Aber' (Aber Pledge) highlights through a series of pledges the University's commitment to the Welsh language and how we offer a Welsh experience to students.
More information on the Welsh services we provide, can be found here: https://www.aber.ac.uk/en/cgg/bilingual-policy/
Welsh Medium Accommodation
Aberystwyth offers students a choice of Welsh medium accommodation for students who are Welsh speakers or learners and would like to live and socialise in a Welsh speaking environment. Welsh medium accommodation allows students to live and socialise through the medium of Welsh, meet other Welsh speakers from across Wales and provides opportunities for learners to be immersed in the language.
Coleg Cymraeg Cenedlaethol
Aberystwyth University works closely with the Coleg Cymraeg Cenedlaethol (CCC) to develop opportunities for students to study in Welsh whatever subject they are studying. CCC aims to increase and ensure more Welsh medium study opportunities, funds scholarships and develops modules and courses for Welsh medium students. The Aberystwyth University branch of the Coleg Cymraeg Cenedlaethol is situated in the Centre for Welsh Language Services. The branch supports the work of the Coleg and acts as a local point of contact for students. You can contact them via aberystwyth@colegcymraeg.ac.uk .
Centre for Welsh Language Services
The Centre for Welsh Language Services promotes the use of Welsh and supports the University in operating bilingually. The Centre's work includes supporting academic departments to develop Welsh medium projects, providing a translation service, offering a comprehensive support service for staff and students through the medium of Welsh and ensuring that the University is compliant with the Welsh Language Standards.
If you have any questions on how Welsh is used at Aberystwyth University, please contact canolfangymraeg@aber.ac.uk
UMCA
Established in 1973, UMCA (Undeb Myfyrwyr Cymraeg Aberystwyth) is a union within the students' union that represents Welsh speaking students and those learning Welsh. If you'd like to learn more about UMCA, feel free to contact the union: umca@aber.ac.uk .