Display Screen Equipment (DSE) and Upper Limb Issues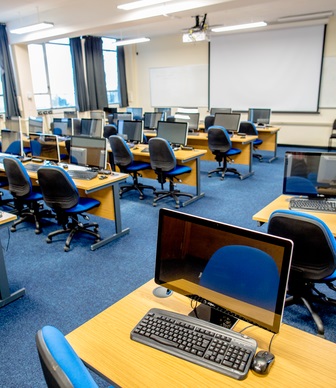 Display Screen Equipment (DSE) is considered any devices or equipment that has an alphanumeric or graphic display screen. This includes display screens, laptops, touch screens and other similar devices.
Risks
Computer workstations or equipment can be associated with neck, shoulder, back or arm pain, as well as with fatigue and eyestrain, however these issues can be avoided if users follow effective practice, set up their workstations properly, and take breaks during prolonged use. By just taking a few simple precautions, work with DSE can be more comfortable and productive.
Data Protection Notice
Data Protection Notice The Health, Safety and Environment Team are committed to protecting personal data through compliance with data protection legislation and best practice. For details of how we manage your personal data, please go to: https://www.aber.ac.uk/en/hse/data-protection-information/.
Documents
The following documents in respect of Display Screen Equipment are available in the Document Library:
P012 Display Screen Equipment Policy
F009 VDU Workstation Checklist
F011

DSE Workstation Self-Assessment Form
For further information relating to any of these documents, please contact the Health, Safety and Environment Team at hasstaff@aber.ac.uk or on extension 2073.
Training
The Health and Safety Essentials E-Learning Training Course includes a module relating to 'Working Safely with Computers', which guides users through good practice for arranging their own workstations. All members of staff should complete this module to assist them with the completion of their Display Screen Equipment assessment.
Further information relating to the Health and Safety Essentials E-Learning modules, including details of how to enrol, are available here.
DSE Assessments
All regular users of display screen equipment should complete and regularly review their personal DSE Assessment. DSE Assessments should be undertaking by completing the F009 VDU Workstation Checklist, and reviewed at least annually or in situations when:
Major changes are made to the equipment, furniture, work environment or software;
Users change workstations;
The nature of work tasks change considerably;
It is thought that the controls in place may be causing other problems.
Colleagues whose DSE Assessments have identified issues or concerns relating to their workstations should contact the Health, Safety and Environment Team on hasstaff@aber.ac.uk or extension 2073 for further guidance.
Important Considerations
Useful considerations when using display screen equipment will include:
Adjust your chair and monitor so they are in a comfortable position for your work
Ensure you have sufficient room for your documents and work equipment
Position your monitor to avoid glare or reflections – or adjust blinds
Ensure the space under your desk is clear – so you can move your legs about
If you are short, use a foot rest – to avoid excess pressure from the edge of your seat on the backs of your legs and knees
Try to keep your wrists straight when keying
Keep the mouse close to you so you do not have to stretch to use it
Do not grip the mouse too tightly
Adjust the brightness and contrast controls on the screen so you can clearly read the screen
Take regular breaks from monitor work - a short break from the screen (5 minutes every hour) is more beneficial than longer breaks at less frequent intervals.