Aberystwyth Student awarded Biochemical Society Prize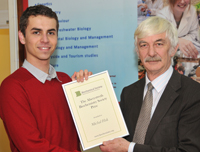 Michal Flak and Professor Will Haresign
Aberystwyth Student awarded Biochemical Society Prize.
The professional society for UK biochemists, The Biochemical Society (www.biochemistry.org), has granted a prize to an IBERS student for success in his studies in biochemistry.
The prize is worth £100 and free membership of The Biochemical Society for one year, and was awarded by Professor William Haresign, IBERS Director of Learning and Teaching, to second year student Michal Flak. Michal was selected to receive the prize after scoring the highest mark in the first semester biochemistry module 'Understanding Proteins and Enzymes'.
Dr. Dave Whitworth, Lecturer in Biochemistry and Local Ambassador of The Biochemical Society said 'It's great that The Biochemical Society could provide a prize so that we could reward one of our students for their pursuit of biochemistry. Michal has made excellent progress in his studies, and I hope that this public recognition spurs him to further success.'
Michal is studying towards a BSc in Genetics and Biochemistry, a degree programme that attracts several high-calibre students to Aberystwyth each year.
In addition to a BSc in Genetics and Biochemistry (CC47), IBERS also offers degree programmes in Biochemistry (C700) and Genetics (C400).