Science Stars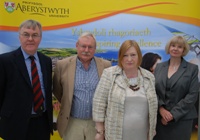 L to R. Professor John Harries, Chief Scientific Advisor to the Welsh Government, Professor Wayne Powell, Director of IBERS, Welsh Government Minister Edwina Hart AM and Professor April McMahon, Vice-Chancellor of Aberystwyth University.
On Thursday 27 September, Edwina Hart, Welsh Government Minister for Business, Enterprise, Technology and Science came to Aberystwyth to launch a new £50m fund to attract some of the world's greatest scientific minds to Wales.

'Stars Wales'/'Sêr Cymru' aims to enhance research excellence by attracting world-class science researchers and their teams to Wales for a minimum period of five years and to increase Wales' cut of the UK Research Council's funding to 5% from its current 3.4%.

The campaign will support the establishment of a collaborative national research network in each of the areas of advanced engineering and materials, life sciences and health; and low carbon, energy and environment.

These are the three 'Grand Challenge' areas highlighted in the Government's 'Science for Wales' strategy which was launched earlier this year.

A Director will be appointed to each network and the Welsh Government foresees that the stars will be appointed as Research Chairs and their research excellence will fall within the three areas cited above.

The Welsh Government funding over five years will be used to provide specialist equipment, bring the salary to the level a 'star' academic would merit and fund appropriate members of their teams.

The Welsh Government is calling for universities across Wales to use this opportunity to become more ambitious and more collaborative in their approach to making funding bids in order to increase their volume of competitively-awarded research.

Speaking ahead of the launch, Edwina Hart said: "Science and innovation are key pillars of a thriving economy. Boosting our science research capability is vital to improving our economic wellbeing and securing a more prosperous, healthy and sustainable future for Wales.