Train and Sustain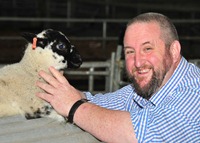 Professor Jamie Newbold
The Advanced Training Partnership for Sustainable and Efficient Food Production (ATP Pasture) launched its flexible training programme at Livestock 2012 on the 4th September. The partnership is funded by BBSRC and consists of three institutions: the Institute of Biological, Environmental and Rural Sciences (IBERS), Bangor University and the National Institute of Agricultural Botany (NIAB).

Working with their management board of industry professionals, the partnership has developed a programme of postgraduate level courses to meet the training needs of the UK's pasture based sector, at a time when it is faced with increasing pressures to be sustainable, efficient and economical. This innovative training programme features current research taking place at the partner institutions and has been designed to be responsive to the needs of the extensive beef, sheep and dairy supply chains.
Professor Jamie Newbold the Director of the Advanced Training Partnership (ATP) for Sustainable and Efficient Food Production, said: "By providing high level, flexible training to professionals in the agri-food industry, we hope that our latest research findings will have even more impact on UK agriculture."
The training available is a blend of workshops and distance learning. The two-day workshops can be taken alone and used to collect CPD (Continual Professional Development) points or as a starting point for postgraduate qualifications. Generous (80%) fee bursaries available to those employed within the agri-food industry, such as: vets, agricultural consultants, farm managers, farmers, levy boards and those involved in the food supply chain.
The programme will be holding its first workshop, Sustainable Grassland Systems - Get Smart with Grass on the 27th and 28th September in Stafford. This will be closely followed by Carbon Foot Print and Lifecycle Assessment - Find your Footprint taking place January 2013, to find out more and register please visit www.atp-pasture.org.uk.