Dr Chris Davey
BSc, PhD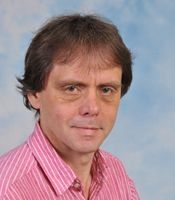 Post-Doctoral Research Fellow in population genomics
Contact Details
Profile
My first degree was in zoology and microbiology and my PhD in biophysics (biological dielectrics). I wrote, got and did two Wellcome Trust fellowships in the area of linear and non-linear dielectric spectroscopy of human blood. I have taught at secondary school, taught a substantial part of the foundation year course in IBERS as well as part of the 1st year biochemistry course. I have successfully supervised PhD students in biophysics and plant math modelling/machine learning and currently I am supervising two students working in the area of fermentation instrumentation/monitoring. My research has encompassed both bench work and theoretical studies. Outside academia I have worked for both small and multinational companies and have freelanced as a consultant and computer programmer. I have studied fine art at first year undergraduate level and am an exhibiting artist and published poet.
Research
My current research interests include biofuel crops, math modelling of plants, applications of machine learning, flow cytometry, dielectrics (particularly applied to the development of novel instrumentation) and quantitative genetics and genomics.
Research Groups
Crops for sustainable energy and materials
Publications
Clifton-Brown, J
, Harfouche, A, Casler, M
, Jones, H
, MacAlpine, WJ, Murphy-Bokern, D, Smart, L, Adler, A
, Ashman, CR
, Awty-Carroll, D
, Bastien, C, Bopper, S, Botnari, V, Brancourt-Hulmel, M, Chen, Z, Clark, L, Cosentino, S
, Dalton, S
, Davey, C
, Dolstra, O
, Donnison, I
, Flavell, R, Greef, JM, Hanley, S, Hastings, A, Hertzberg, M, Hsu, TW
, Huang, L
, Iurato, A
, Jensen, E
, Jin, X, Jørgensen, U, Kiesel, A, Kim, D-S, Liu, J
, McCalmont, JP
, McMahon, GG, Mos, M
, Robson, P
, Sacks, EJ, Sandu, A, Scalici, G, Schwarz, K, Scordia, D
, Shafiei, R
, Shield, IF
, Slavov, G
, Stanton, B, Swaminathan, K, Taylor, G, Torres, AF, Trindade, LM, Tschaplinski, T, Tuskan, J, Yamada, T, Yu, CY, Zalesny, R-F, Zong, J & Lewandowski, I 2019, '
Breeding progress and preparedness for mass‐scale deployment of perennial lignocellulosic biomass crops switchgrass, miscanthus, willow and poplar
',
GCB Bioenergy
, vol. 11, no. 1, pp. 118-151.
10.1111/gcbb.12566
Slavov, G
, Davey, C
, Bosch, M
, Robson, P
, Donnison, I
& Mackay, I 2018, '
Genomic index selection provides a pragmatic framework for setting and refining multi-objective breeding targets in Miscanthus
',
Annals of Botany
, vol. 124, no. 4, mcy187, pp. 521-529.
10.1093/aob/mcy187
Davey, C
, Robson, P
, Hawkins, S
, Farrar, K
, Clifton-Brown, J
, Donnison, I
& Slavov, G
2017, '
Genetic relationships between spring emergence, canopy phenology and biomass yield increase the accuracy of genomic prediction in Miscanthus
',
Journal of Experimental Botany
, vol. 68, no. 18, pp. 5093-5102.
10.1093/jxb/erx339
Davey, C
, Jones, L
, Squance, M
, Purdy, S
, Maddison, A
, Cunniff, J
, Donnison, I
& Clifton-Brown, J
2017, '
Radiation capture and conversion efficiencies of Miscanthus sacchariflorus, M. sinensis and their naturally occurring hybrid M. × giganteus
',
GCB Bioenergy
, vol. 9, no. 2, pp. 385-399.
10.1111/gcbb.12331
Davey, C
, Nipper, R
, Robson, P
, Farrar, K
, Clifton-Brown, J
, Jensen, E
, Donnison, I
& Slavov, G
2016, '
Selection and Genome-Wide Prediction of Phenology and Biomass Yield in Miscanthus
', Plant and Animal Genome Conference XXIV, San Diego, California, United States of America,
09 Jan 2016
-
13 Jan 2016
.
More publications on the Research Portal